London's art scene is back in business: playing host to 291 galleries collectively, Frieze London & Masters 2022 took place in the usual spot in Regent's Park. In its 19th edition, Frieze London (the UK's premier contemporary art fair) hosted international galleries exhibiting prestigious works by artists both emerging and established. Whilst just across the park, in its 10th edition, Frieze Masters spanned thousands of years of art history, from the ancients to the Old Masters to the late 20th century.
Over 60% of galleries at Frieze London & Masters use Artlogic.
The energy at the fairs surrounded the artworks with a hum of life, amongst which the pieces sat bright and bold. Frieze 2022 was busy. With over 60% of galleries at Frieze London & Masters using Artlogic, touring the fairs it was great to see so many clients making the most of their Artlogic accounts; using tools such as the PrivateViews App and the database to do away with printed fact sheets and price lists, enabling them to bring their entire inventory to the fair and showcase works beyond what was in the booth.
Stepping into a post-covid era of events, we note that the past few years have exacerbated the importance of the digital world. Having served as an invaluable interim tool to facilitate remote exhibitions, sales, viewings and auctions during the pandemic, technology remains just as business critical within the art space as ever before.
In part, this can be attributed to a newfound acceptance of the need for tech. Technology is so ingrained in our day-to-day lives that it's unavoidable within the art space too. The first place a collector may look to scope out a new gallery is the web: websites have become virtual shopfronts, and a little window dressing goes a long way.


So, there was more to Frieze than what was in the exhibitor's booths – what's on screen matters too. To illuminate the interplay between the digital world and the physical art fair world, we thought we'd check in with a few of the many Artlogic clients who exhibited at Frieze, making the most of our websites and online viewing room templates to deepen their connection with collectors and their audience, pre, during and after the fairs.


---
Presenting Ilona Keserü for Frieze Masters 2022, Stephen Friedman Gallery curated an exhibition that focused on works from the 1970s and early 1980s, demonstrating the breadth of Keserü's practice, spanning multiple disciplines, combining references to Hungarian folk culture with Western European modern art and historic architecture.
Frieze Masters, Stephen Friedman Gallery: Ilona Keserü. Booth E07


Keserü's vibrant, expressive use of colour animates the signature curvilinear forms, and the lobed motifs common throughout Keserü's paintings are said to have been inspired by heart-shaped headstones discovered at a cemetery in Balatonudvari, Hungary.
---
Presenting the first solo survey of Jeffrey Gibson in the UK, Stephen Friedman Gallery showcased six of Gibson's new mixed-media paintings, two large beaded punching bag sculptures, and a beaded bust as part of the October exhibition.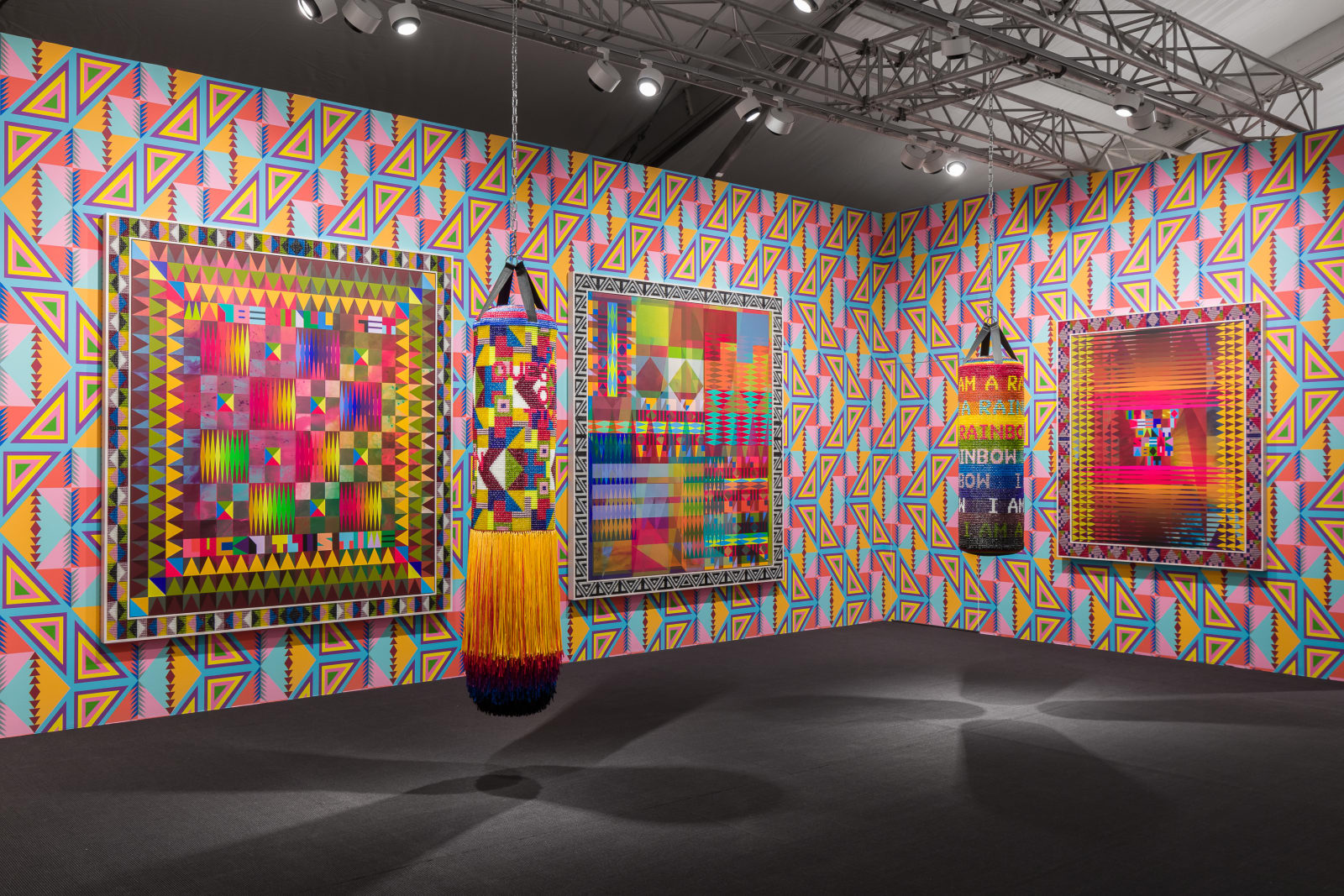 Frieze London, Stephen Friedman Gallery: Jeffrey Gibson. Booth C05
Combining Indigenous artisanal handicraft, Gibson uses beadwork, leatherwork and quilting, as well as painting, performance, sculpture, textiles and video. The artist's multi-faceted practice is characterised by vibrant colour and pattern, blending his Choctaw-Cherokee heritage with references to club culture, queer theory, fashion, politics, literature and art history.
---

Returning to Frieze 2022, Victoria Miro's booth presented a tribute to Paula Rego, showcasing some of the last large-scale pastels completed by the artist. Blending autobiographical elements with folk tales, Rego's work is exuberant and characterful, distorting narrative to play on what it means to be a storyteller: "The story progresses and changes as it goes along, it becomes something else over time, a story that I really want" Paula Rego.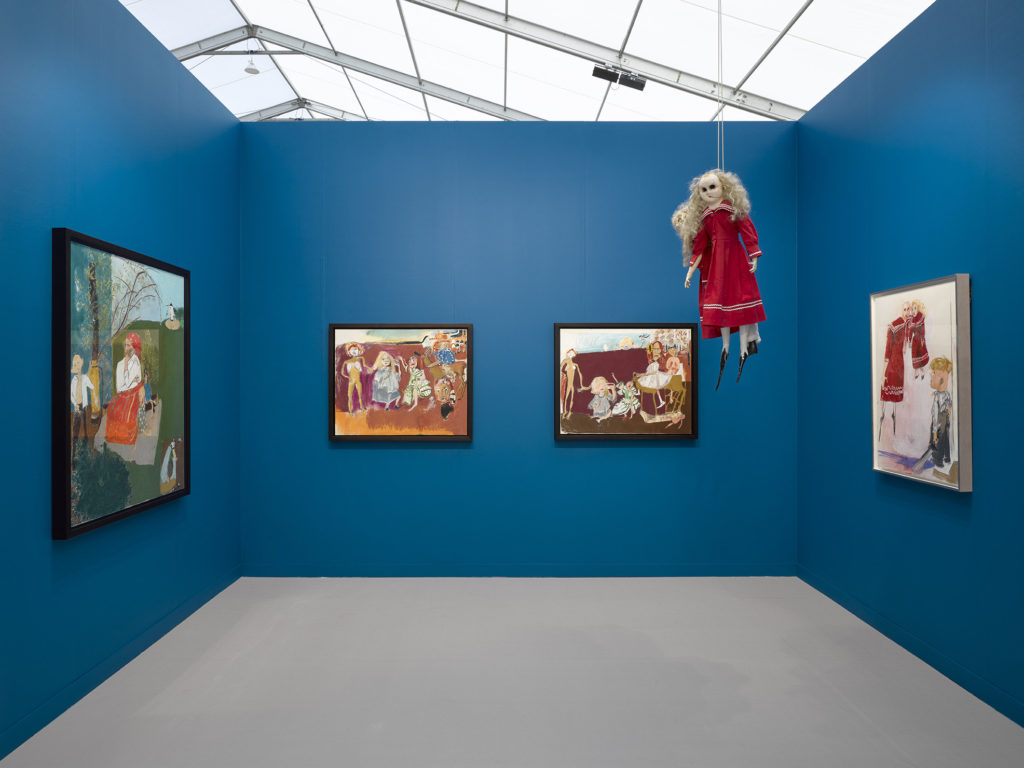 Frieze London, Victoria Miro: Paula Rego. Booth C17
Additionally, works by Milton Avery, Hernan Bas, María Berrío, Secundino Hernández, Kudzanai-Violet Hwami, Chantal Joffe, Doron Langberg, Wangechi Mutu, Chris Ofili, Celia Paul, Grayson Perry, Conrad Shawcross, Hedda Sterne and Flora Yukhnovich were displayed in Victoria Miro's booth.
---
With an extensive list of featured artists, Thaddaeus Ropac's booth housed a selection of works from: Miquel Barceló, Alvaro Barrington, Georg Baselitz, Oliver Beer, Mandy El-Sayegh, Antony Gormley, Rachel Jones, Martha Jungwirth, Alex Katz, Robert Longo, Elizabeth Peyton, Robert Rauschenberg, Daniel Richter, Tom Sachs, Sturtevant.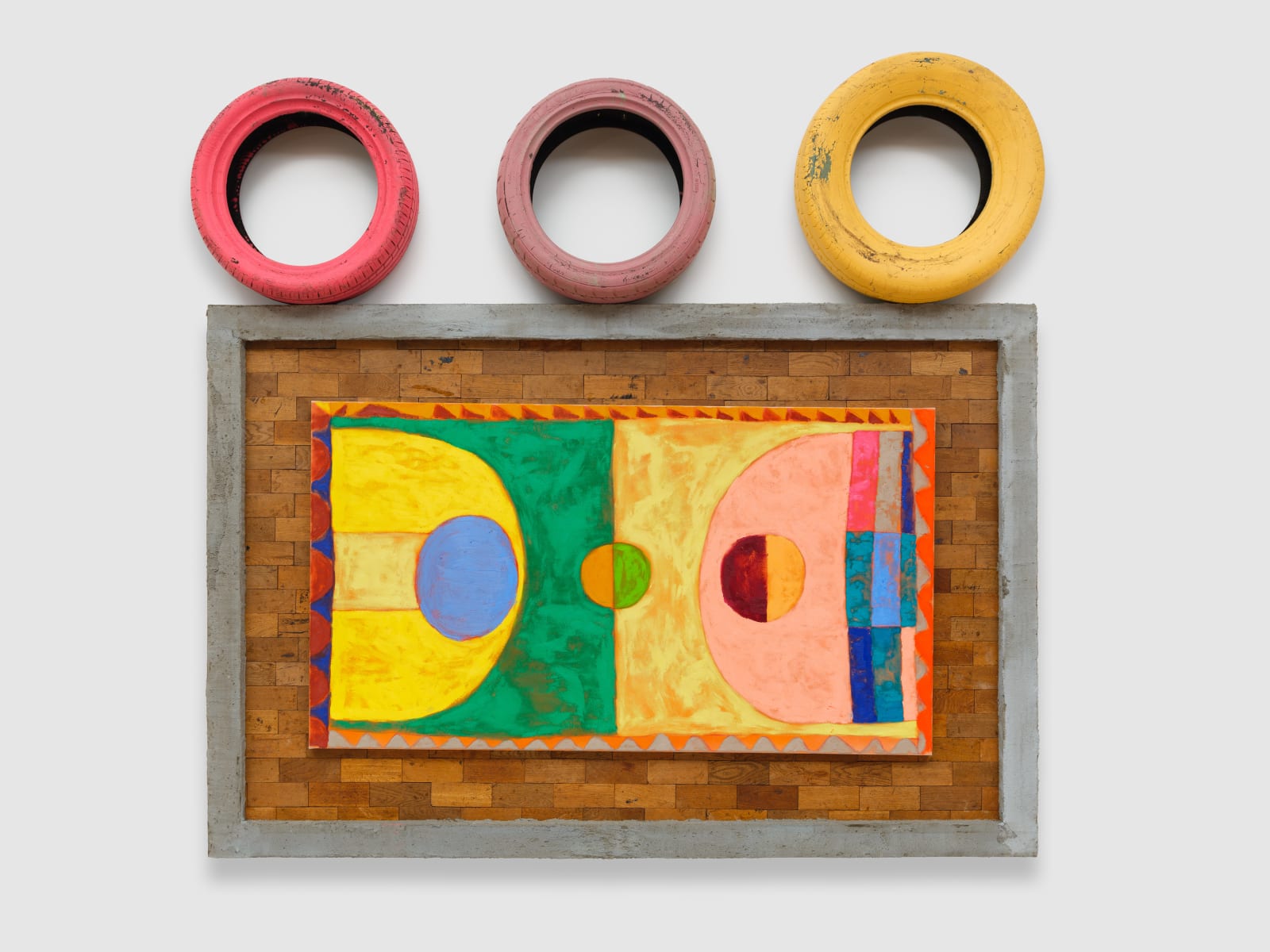 Alvaro Barrington, Changed the game, 2022

Juxtaposing Antony Gormley's elegant figurative forms (from Cast Slabworks) that evoke Stonehenge-esque megalithic structures, with Alvaro Barrington's vibrant, monochromatic
painting Changed the Game, and Sturtevant's disruptive, pensive and conceptually challenging Johns Figure Two, Ropac's eclectic booth was nothing short of intriguing, vibrant, and varied.
---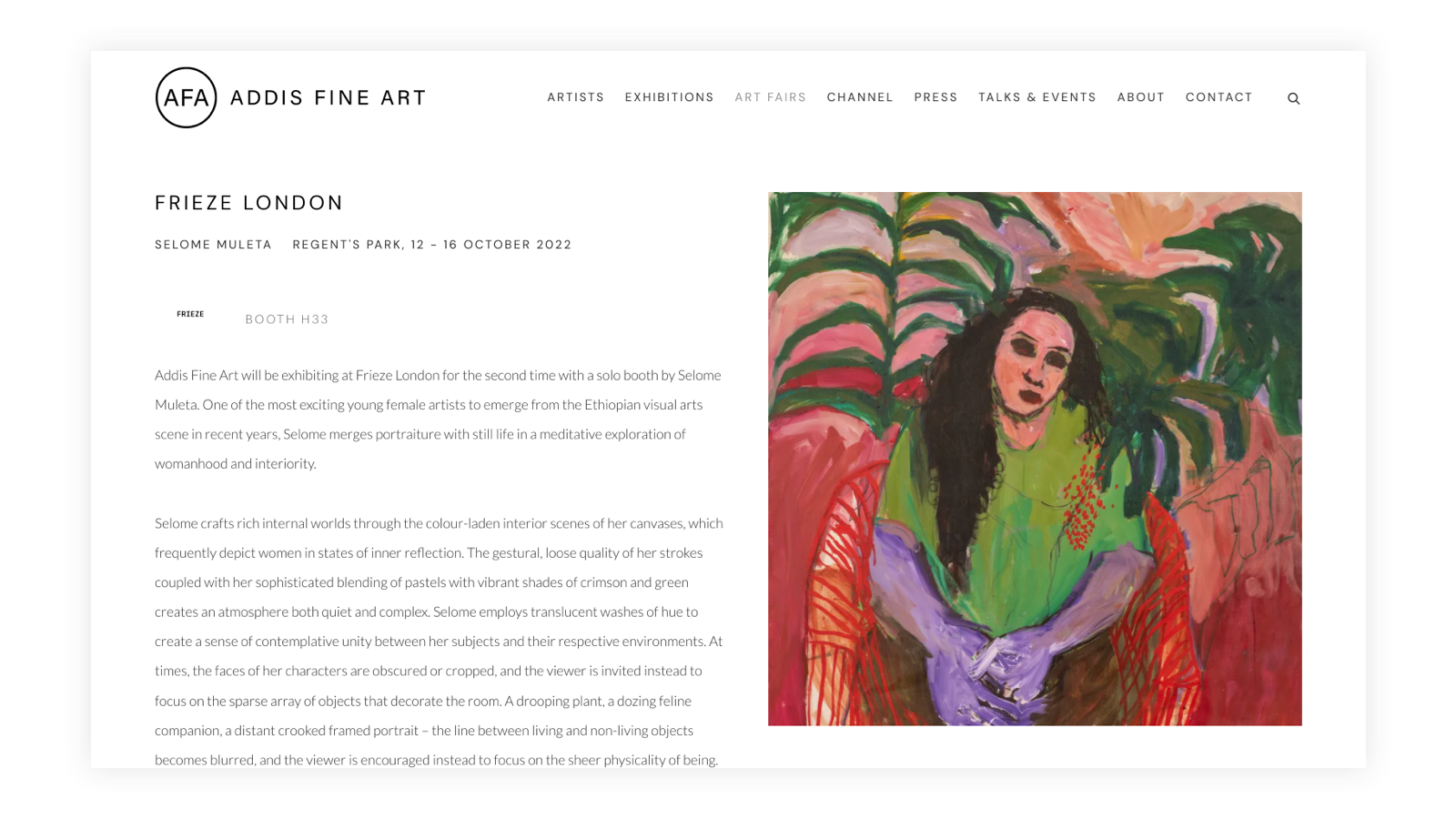 Exhibiting for the second time at Frieze London, Addis Fine Art curated a solo booth by Selome Muleta. In a meditative exploration of womanhood that merges portraiture with still life, Muleta's pieces pop with a distinctive vibrancy, pointing towards a subtle dissection of interiority. Touted "one of the most exciting young female artists to emerge from the Ethiopian visual arts scene", Muleta's rich use of colour and complex interior scenes make for a subtle yet impactfully pensive collection.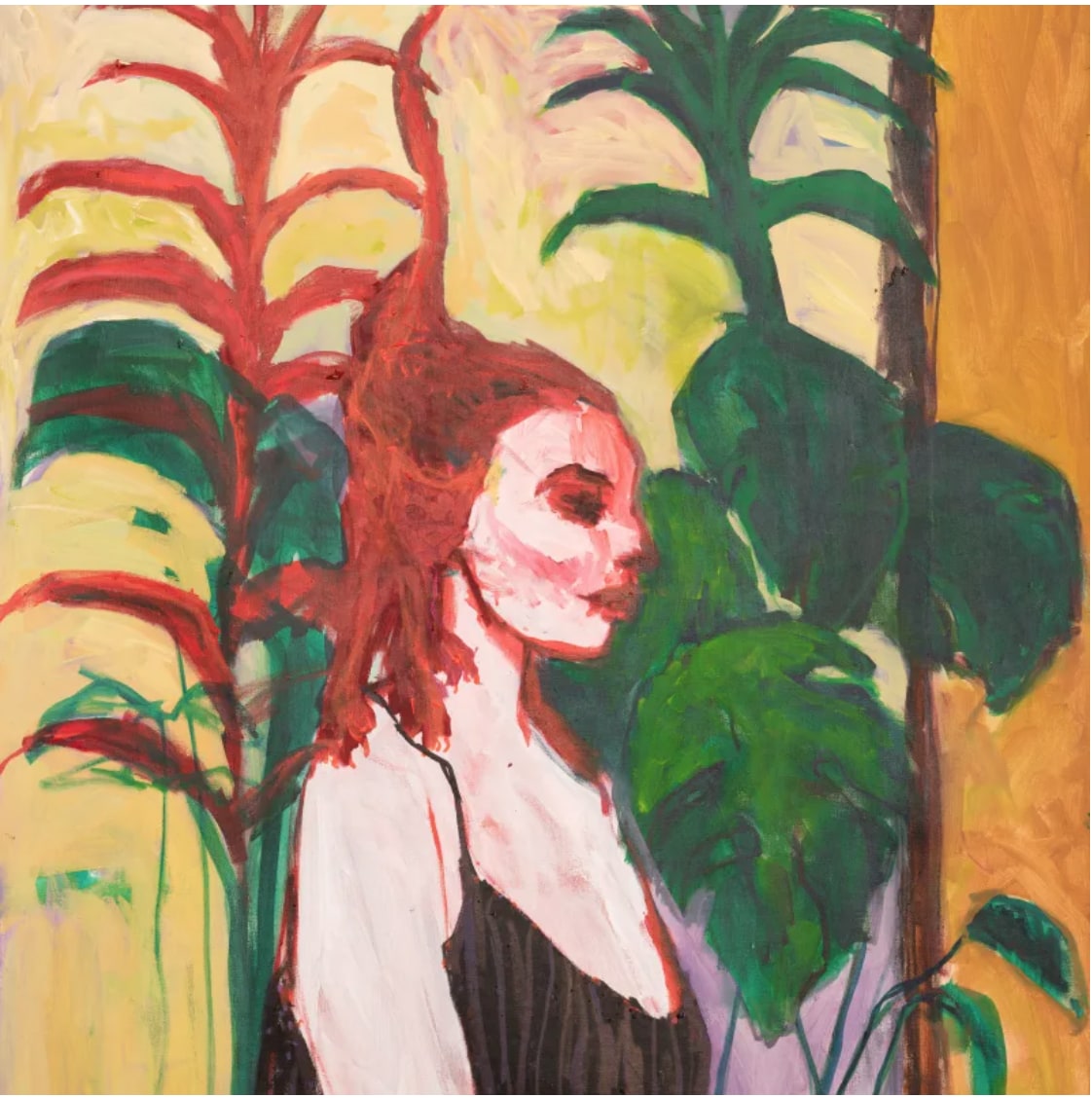 Frieze London: Addis Fine Art, Selome Muleta. Booth H33
Blurring the lines between living and nonliving, individual faces and independent objects are in a constant flux between clarity and subtle erasion, forcing us to focus on the existence of the subject, rather than its definition.
---
GRIMM participated in Frieze London with new works by a selection of artists, including: Gabriella Boyd, Matthias Franz, Louise Giovanelli, Angela Heisch, Matthew Day Jackson, Arturo Kameya, Francesca Mollett, William Monk, Rosalind Nashashibi, Michael Raedecker, Daniel Richter, Caroline Walker, Alex van Warmerdam and Matthias Weischer.
Showcasing two brand new paintings by Francesca Mollett, Frieze London was the first UK presentation of her work since GRIMM announced their representation of the artist. Additionally, GRIMM presented new works from recently-represented artists: Anthony Cudahy and Gabriella Boyd. Both Cudahy and Boyd have solo shows in GRIMM Amsterdam and GRIMM New York this Autumn.
Frieze London: GRIMM, selected artists. Booth G06
GRIMM also presented Martínez Garay's major installation El Creador (2019). As the first UK presentation of El Creador, this installation formed part of Garay's curated special section Indra's Net, which explores the ethics of being. Garay has mastered a plethora of mediums, including sculpture, video, and site-specific installations. Her sculptural works pay reference to pre-Columbian aesthetics, giving space and importance to artefacts from Incan civilisation.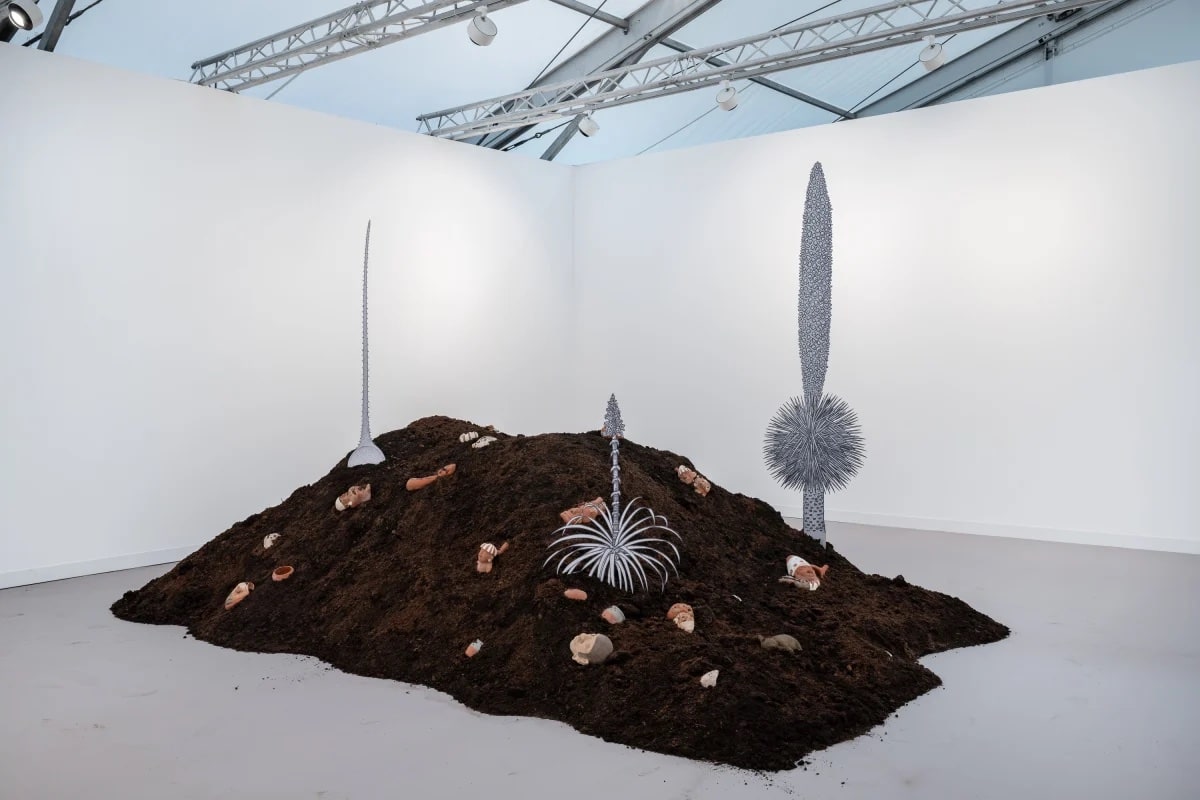 Frieze London GRIMM: Claudia Martínez Garay. Stand IN11
---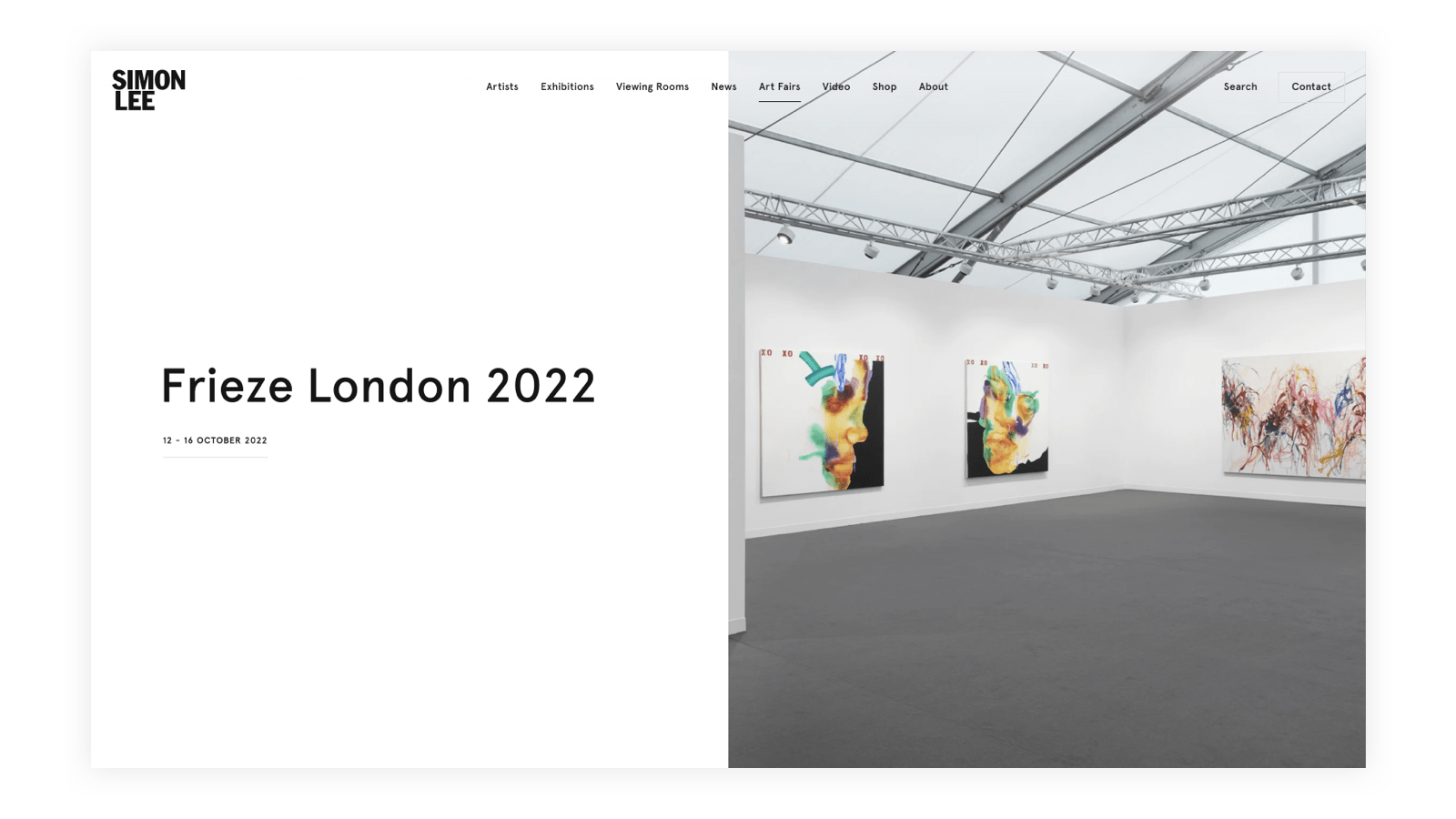 With an acute focus on contemporary painting, Simon Lee Gallery presented works by Alex Hubbard, A'Driane Nieves, Chibuike Uzoma and Clare Woods for Frieze London – bringing the Artists' work together in a celebration of their respective painting processes and aesthetic vocabularies.
Hubbard's work involves video art and painting to explore and cross-examine the boundaries of the media in new and inventive ways. Nieves is an award-winning artist, activist, speaker, U.S. Air Force veteran and mental health advocate; her work focuses on the impact of trauma: seeking to expose how it shapes, alters and redefines identity. Uzoma's multidisciplinary works span painting, photography, drawing, text and video, and aim to avoid linear narratives, instead offering up compositions that are limitless in their potential for interpretation and regeneration. Finally, Woods is concerned with sculpting an image in paint to express the peculiarities of an object. Originally trained as a sculptor, much of Woods' work focuses on physical form, translating sculptural language into two-dimensional images.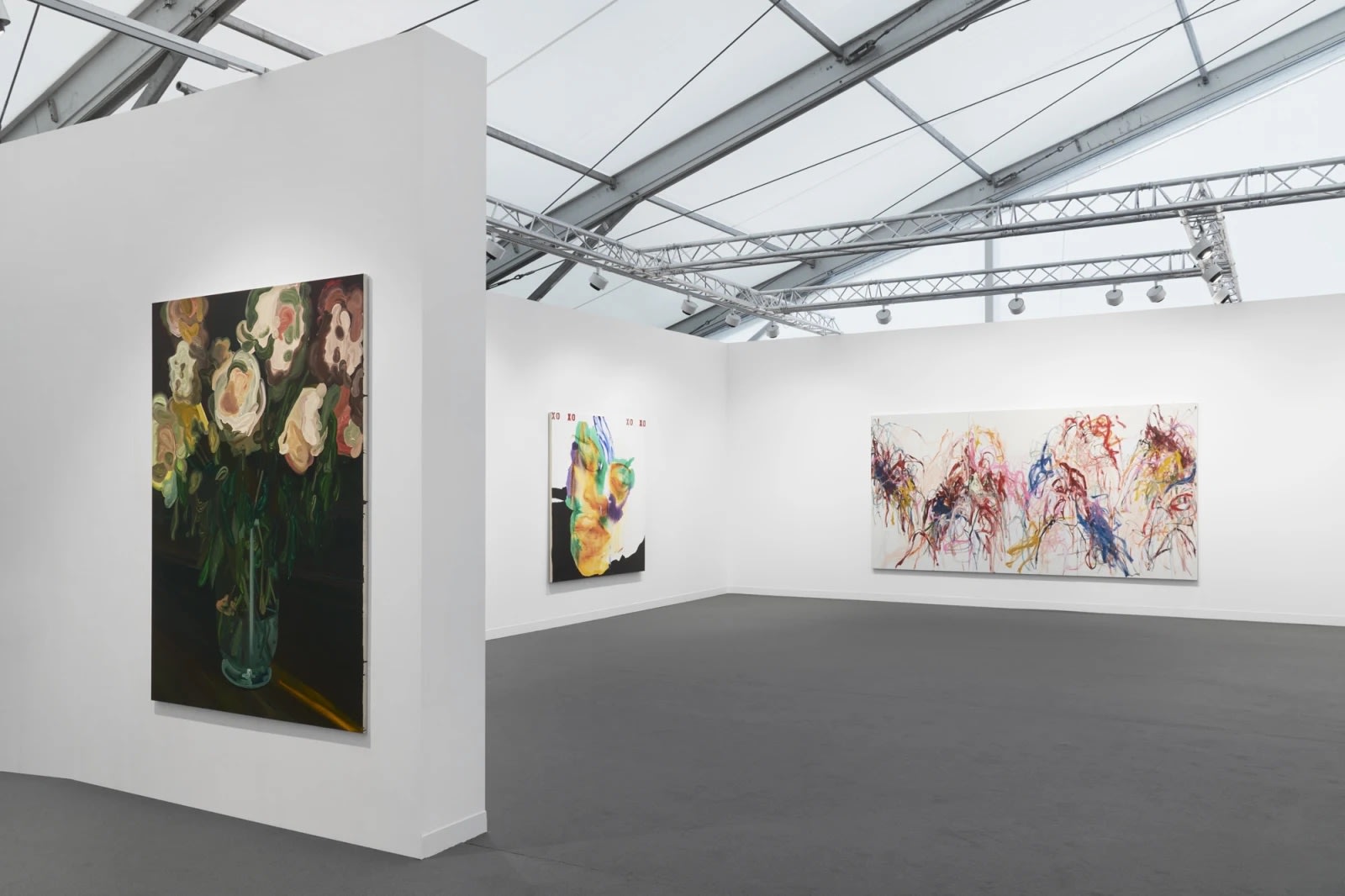 Frieze London: Simon Lee Gallery, Selected artists, Booth E04
---
Grow your gallery online
If, like our clients featuring at Frieze this year, you're eager to grow your gallery or studio with a database and website specifically designed for the art world, browse our website templates or visit our database page to get started today.
Join our newsletter
In order to respond to your enquiry, we will process the personal data you have supplied in accordance with our privacy policy. You can unsubscribe or change your preferences at any time by clicking the link in any emails.