For a second year in a row, we partnered with Paris Photo, in its 25th edition, to help them re-imagine how to interact with collectors online through their Online Viewing Room. Since attending the fair at the Grand Palais Éphémère, we wanted to reflect on the powerful interplay between the physical and the online experience, exposing the necessity for a strong online presence in today's ever-more-digital climate.

Dedicated solely to photography, 2022 saw the international fair play host to works from 200 galleries, showcasing over 1,600 artists, and an online viewing that hosted over 1,025 artworks. These works discoverable through Exhibitor and Artworks pages, or with 'Surprise Me!' a feature simulating the chance encounter that happens in your in-person experience.

Highlights from the show include Stevenson and Yancey Richardson's online booths, specifically their use of the custom View on a Wall tailored spcifically for Paris Photo: featuring an exhibition booth wall and the roof of the Grand Palais Éphémère to provide context and a hint of drama. This helped to virtually mimic their Paris Photo booths and digitally reimagine works for collectors to get a better sense of scale of the artwork. The new View on a Wall Photo Mode allows clients to upload a background image of their choosing to create a custom experience for their gallery or studio.

Stevenson – Cape Town, Johannesburg and Amsterdam


View on a Wall view of Mame-Diarra Niang: Morphologie du rêve #4, 2022
First, let's take a look at Stevenson. Jointly owned by its 13 directors, Stevenson's unique governing ensures diverse and international exhibition programming with a focus on South Africa.
Suspended on Stevenson's online wall is new work of Mame-Diarra Niang: Morphologie du rêve #4. The use of the body as a metaphorical tool, somewhere between presence and absence, allows Niang's blurred figure to explore her subconscious, and the sense of scale of Niang's work is captured beautifully in the virtual rendering.


Digitally portraying such an emotionally complex work is a challenge. Conveying the essence of an artwork, its scale, that indescribable "feeling" is, perhaps, almost impossible online. Yet, by utilising the View on a Wall feature, it is possible to achieve the digital next best thing. It's never about replacing the in-person experience, it is about aiding a collector's discovery, transporting them right into the Paris Photo fair so they can imagine standing before a to-scale version of the work, helping to create an accurate sense of the piece.
Yancey Richardson – New York City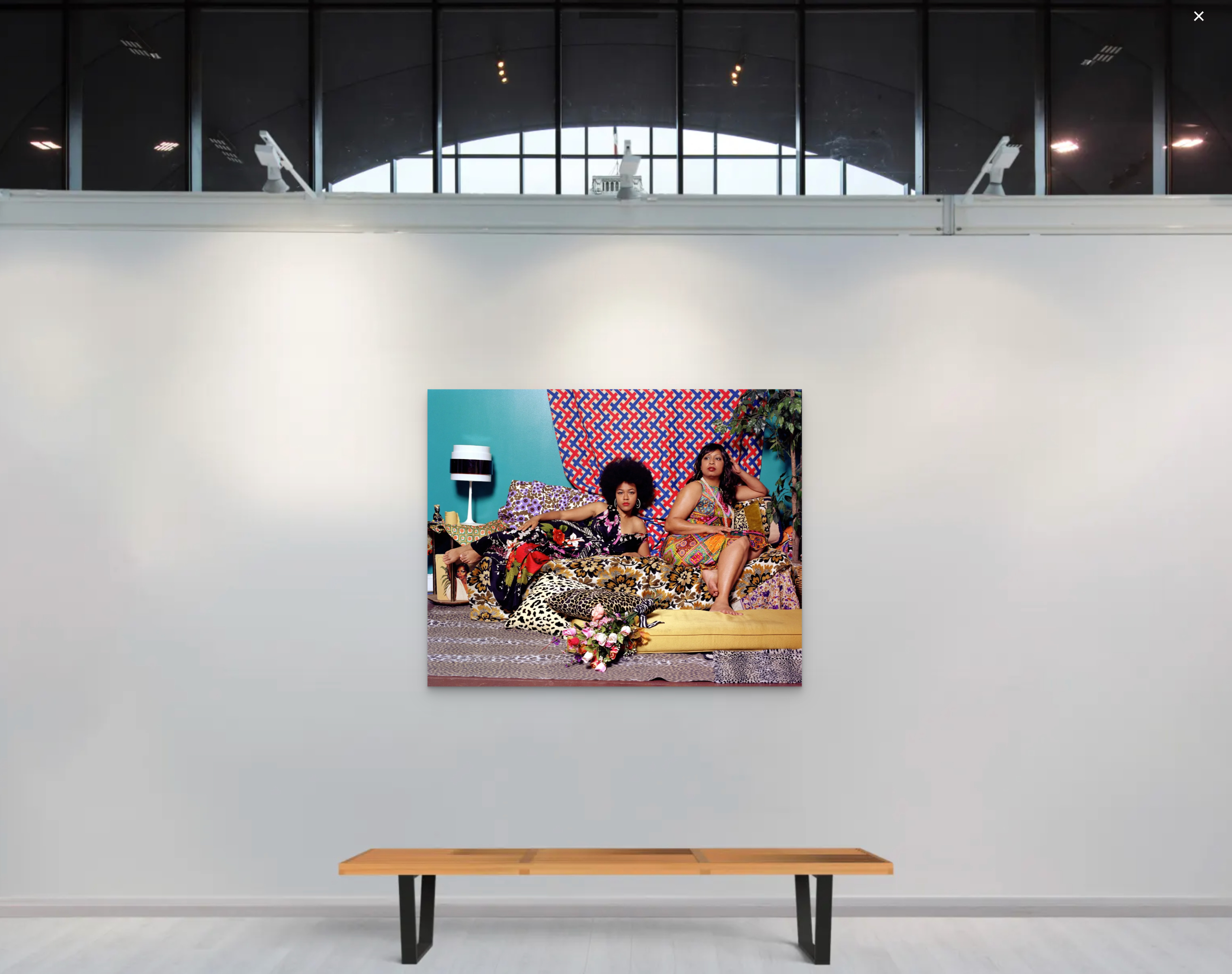 View on a Wall view of Mickalene Thomas, Tell Me What You're Thinking, Shinique, 2022
Only a few steps down from Stevenson's booth sat Yancey Richardson's bright space: a booth packed with colour and contrast, with rich chromatic works from John Divola, Larry Smith and Mickalene Thomas juxtaposed with Zanele Muholi's silver gelatin prints – a vibrancy that echoed throughout their virtual space too.
Focused on lens-based media (including, but not limited to, photography and film), the gallery represents emerging, mid-career and critically recognised artists, creating a rich tapestry of work, and Michakele Thomas' Tell Me What You're Thinking, Shinique stands out: resonating as her models stare directly into the camera and, therefore, the eye of the beholder.


Having joined Niang as one of the 32% of women showing at Paris Photo this year, Thomas' compositions showcased a spectacular exploration of female beauty, desire and power. Elaborately dazzled with 1970s patterns and bright colour, her muses are emboldened with self-possession and individuality.
In
Tell Me What You're Thinking, Shinique,
the muses' gaze is still held on the virtual wall. The View on a Wall feature takes the piece out of context from other works in the collection and allows the image to stand alone, isolating it in its monumental glory. And, by placing a well recognised object such as a bench within the virtual scene, the view has a reference point for scale. The collector can now envision the work in their gallery or home.
---
Executed well, the digital world can supplement the real world experience of art, and encourage high value sales. As online spaces rapidly expand, they provide alternative avenues for collectors and appreciators to engage with works.
A well-curated digital offering combined with an impactful in-person encounter allows the collector to enjoy the best of both worlds: affording the convenience of being able to revisit the work multiple times over virtually, whilst retaining the real world wow factor.
As we step into a more digitally-minded future, providing a comprehensive omnichannel experience will be key to securing sales. Want to know how you can maximise this opportunity?
Discover the features you'll need.
Join our newsletter
In order to respond to your enquiry, we will process the personal data you have supplied in accordance with our privacy policy. You can unsubscribe or change your preferences at any time by clicking the link in any emails.