With FIAC Online Viewing Rooms opening this week, we caught up with Jennifer Flay, Director of FIAC and Maxime Hourdequin, Deputy Director of FIAC, to discuss why building a digital platform that has 'something for everyone' is at the heart of their new online offering.
This is FIAC's first foray into the digital space; why did you decide to launch the viewing rooms now?
We have been interested in developing a parallel digital component to FIAC for some years now. However, when the pandemic hit, we were not yet ready to go it alone.
At the time, we would have no doubt felt more comfortable if we had been ready with a digital solution to roll out immediately in response to the suspension of activities, for galleries and for ourselves. This was not the case. Supported by Reed Exhibitions inhouse digital department, we seized this opportunity to analyze what was out there in terms of state-of-the-art technology, existing products and potential developers; to better understand the needs and expectations of our exhibitors and visitors; to measure their enthusiasm for the rapid development and potential of these platforms, and sometimes also their disappointment with the user experience and results.
As "OVR fatigue" quickly replaced "fair fatigue", the urgency dwindled. Artlogic, who we had identified as our ideal developer, was fully committed and mobilized on other projects, and we decided mutually that time was on our side to develop a platform that integrated all available, relevant and reliable technology while avoiding gimmicks and oversell in order to respond as precisely as possible to the needs and expectations of our exhibitors. From the very beginning, we saw FIAC OVR as a durable complement to our physical events.
How have you maintained the essence of FIAC with this new digital format?
The essence of any art fair is, first and foremost, the exhibitors. For this inaugural edition of FIAC OVR, we are proud to feature 214 exhibitors from 28 countries, all of them present at FIAC 2019 or selected to participate in FIAC 2020, cancelled due to the pandemic. With their incredible diversity - geographic, generational, aesthetic, scale of operations, areas of expertise - they are the core identity of FIAC. We are honoured that they have chosen to join us for this launch.
All visitors to FIAC have a sense of the important role the impressive Parisian cultural infrastructure plays in the experience of the fair. By the number and variety of world-class cultural institutions it comprises, it is a privileged context that is truly unrivalled in the international landscape. FIAC has always highlighted this specificity and the opportunities it creates.
It was obvious from the first stages of planning that we wanted our partners, institutional and private, to be on board with us, as they are traditionally for the physical event. FIAC OVR visitors will see exciting contributions from the Musée du Louvre, the Centre Georges Pompidou, the Petit Palais, the Musée d'art moderne de la Ville de Paris together with the soon-to-be inaugurated Bourse du Commerce - Collection François Pinault, and the Fondation Pernod Ricard, two eagerly awaited additions to the cultural landscape.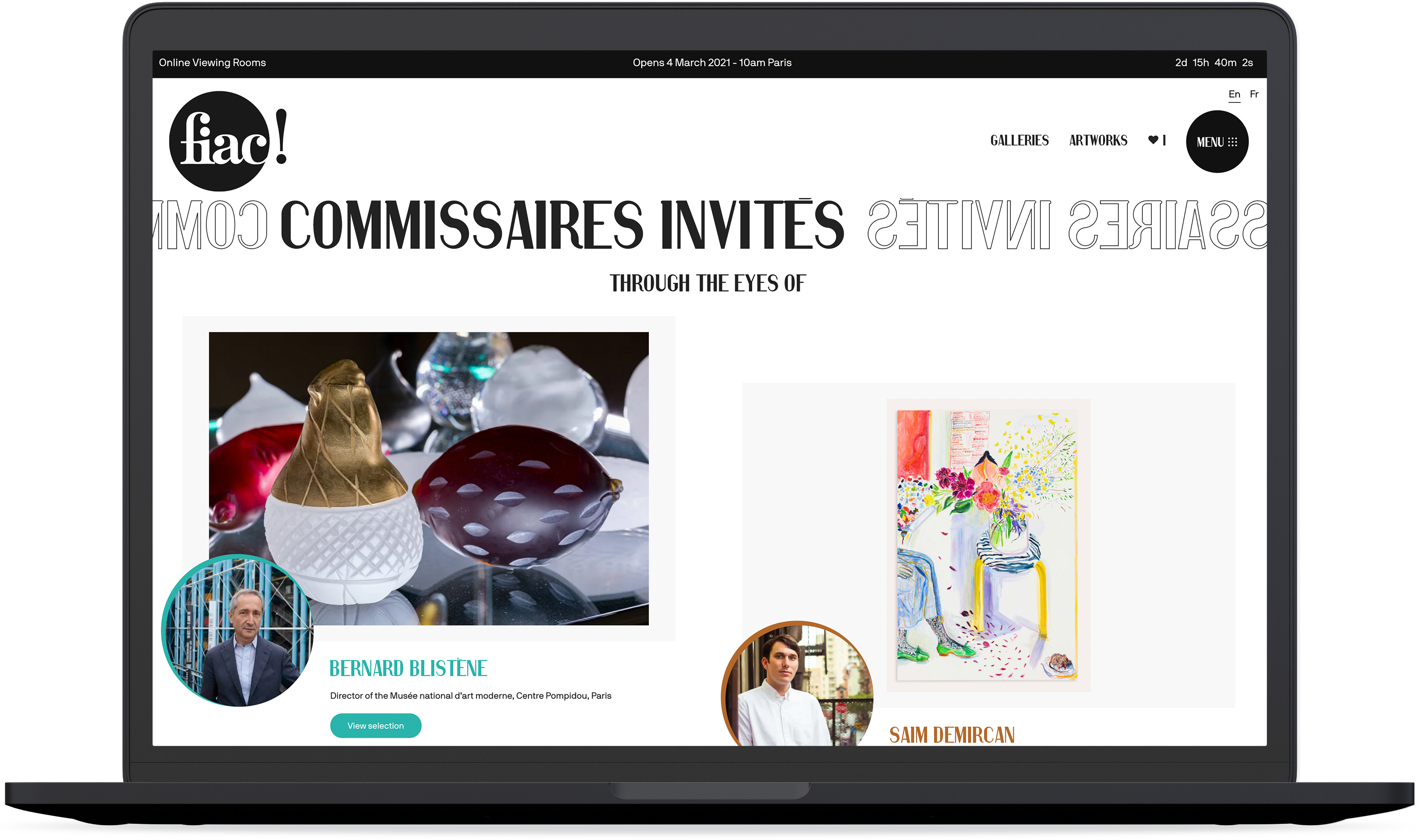 Likewise, the curatorial choices section, 'Through the eyes of...' features prominent Parisian curators; Bernard Blistène of the Centre Georges Pompidou, Emma Lavigne of the Palais de Tokyo and Jean de Loisy of the Ecole nationale des Beaux-Arts, joined by Saim Demircan (curator and writer, New York), and X Zhu-Nowell (assistant curator at the Guggenheim, New York). Guest institutions, including the Museo Tamayo from Mexico City and MWoods from Beijing who will join us in the Conversation Room. Through the active involvement of these institutions in FIAC OVR, one of the other signature features of FIAC's DNA is transposed into the digital space.
The FIAC "look and feel" is also immediately perceptible. From 2005 onward, we have entrusted our visual identity to the prominent French graphic designers, M/M Paris. From the creation of the vintage '70's logo, the characteristic custom-built typeface and the heterogeneous and seemingly haphazard iconography, FIAC's visual identity is of their making. It was important to us that FIAC OVR integrated our distinctive visual vocabulary.
When we began work on the design, it was gratifying and reassuring to see how intuitively Artlogic understood this language and embraced it instantly while proposing new features which prolonged the FIAC spirit into the digital space. From the first presentation of the maquette onwards, the FIAC team was and continues to be astonished by how much 'it looks like us'.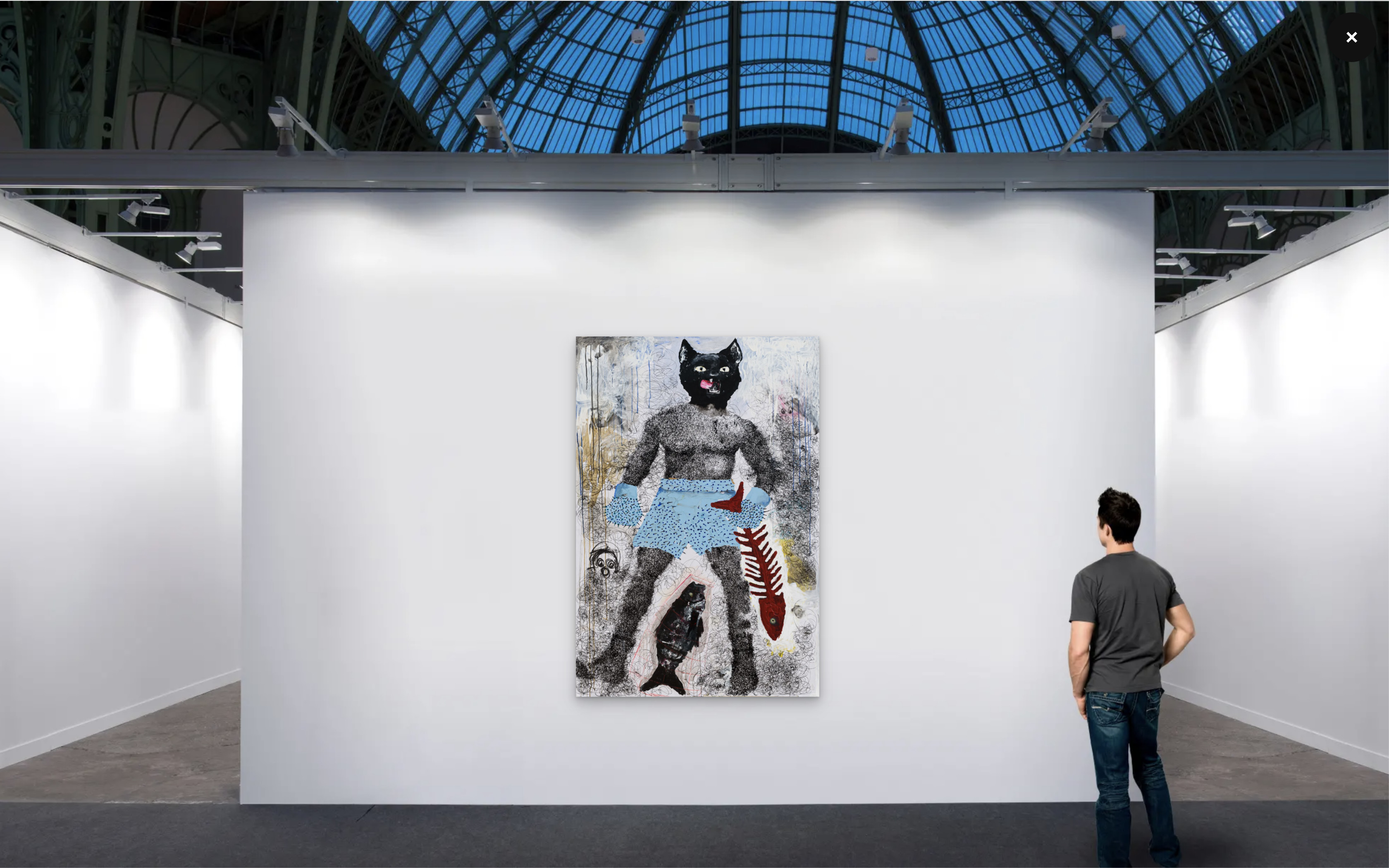 View on a Wall: Serigne Ibrahima Dieye, 'Power at all costs 3', 2021, Courtesy of Galerie Cécile Fakhoury & Copyright The Artist

Visitors can view works on a virtual wall in the Grand Palais using your custom View on a Wall - did you feel it was important to bring the iconic building's physical look online?
The Grand Palais has such great karma. We know the very special place that it holds in our exhibitors' and visitors' hearts and minds. An iconic monument inherited from the 1900 Exposition Universelle and a gem of Art Nouveau, the turn of the century bravura of the immense glass cupola levitating over the familiar curves of its vast light-filled volumes and its distinctive green ironwork are dear to us all. For many, they instantly evoke FIAC.
2021 is a special year for us. We will temporarily migrate to the impressive Grand Palais Éphémère. This new building, located on the Champ-de-Mars near the Eiffel Tower, was designed by world-renowned French architect Jean-Michel Wilmotte to welcome major events traditionally held in the Grand Palais for the duration of renovation work underway in the Grand Palais, which will be completed in 2024 in time for the Olympic Games in Paris.
We love the 'Chance Encounters' button on the website - could you tell us about this?
We were very keen to translate the excitement one feels when - casually visiting a gallery space or walking in the aisles of an art fair - something jumps out off the wall and grabs you; the mystery and excitement of a chance encounter. We chose the poetry of the Comte de Lautreamont's seminal phrase crystallizing the spirit of surrealism, "As beautiful as a chance encounter of a sewing machine and an umbrella on an operating table". The poetic dimension, the art historical connotation and the French touch converged to make "chance encounter".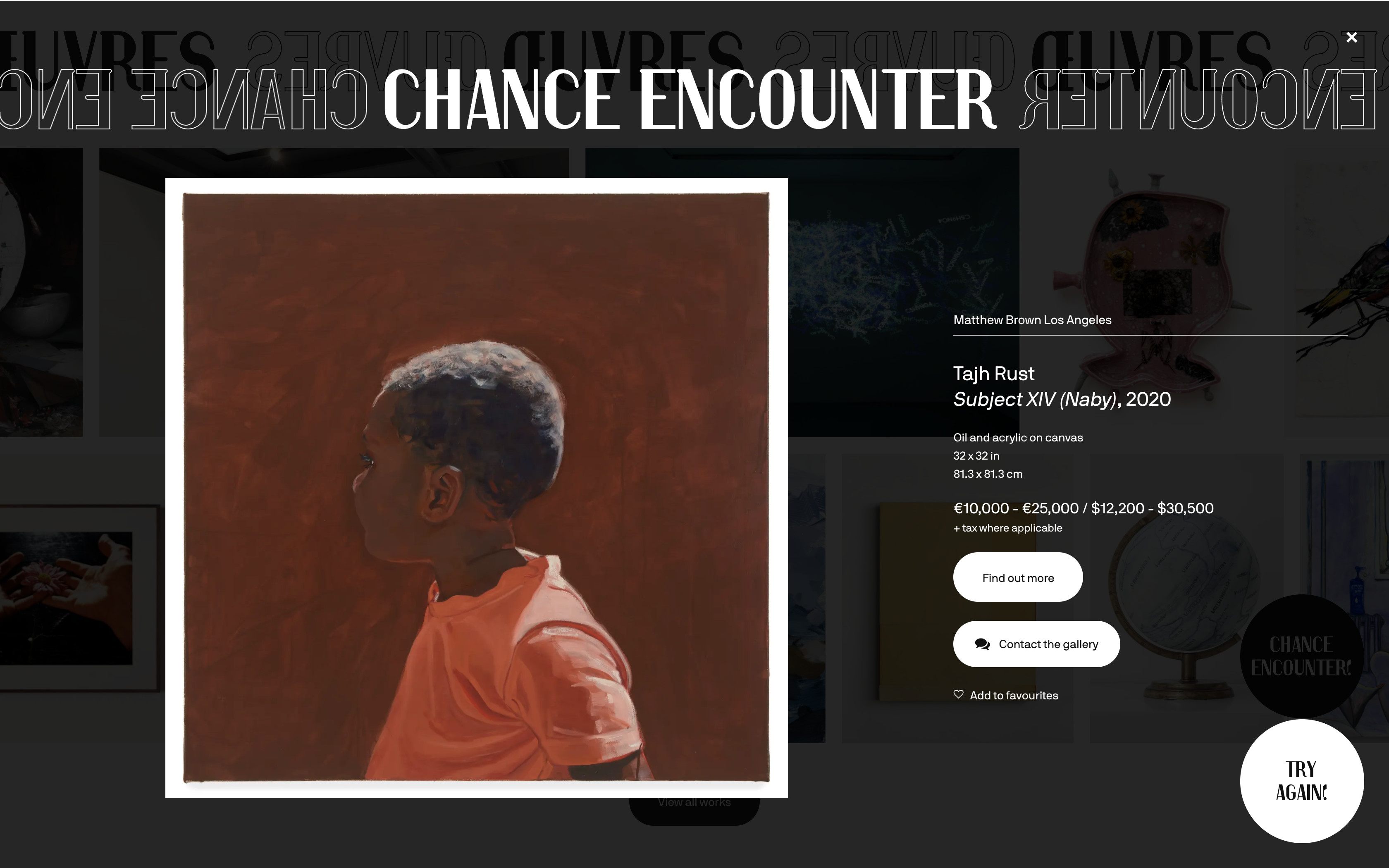 Tajh Rust, Subject XIV (Naby), 2020, Courtesy of Matthew Brown Los Angeles
What opportunities are you excited to you see happening with this new digital platform? Is this the new 'normal'?
Digital platforms have most definitely imposed themselves as compulsory features of the new normal. Isolated from the possibility of real-life encounters with artworks, we believe they have shortcomings, but parallel to a physical event, the perspectives are tremendous, not least of which the potential of these enlarged exhibition opportunities. FIAC OVR will be a permanent complement to the physical fair, integrating new functions as we streamline the user experience and enrich our content. Ultimately our aim for FIAC is to develop a hybrid event with powerful and complementary physical and digital components.
"There is genuinely 'something for everyone'.

We want our OVR to be a rewarding experience for those who visit."
What do you hope visitors and collectors experience with the Online Viewing Rooms?
We have created a bespoke, purpose-built platform which we hope will provide a user-friendly experience that is both serious and fun, ergonomic and rich in content. Ease of access and generosity are important to us. There is genuinely 'something for everyone'. We want our OVR to be a rewarding experience for those who visit. We want our public to be enticed into our exhibitors' viewing rooms, excited by what they see and encouraged to go one step further and let themselves be tempted. We want those who are considering a possible acquisition to be able to identify works that interest them in a few clicks.
We want first time buyers to be guided to works that match their criteria without feeling submerged or alienated; to let themselves be surprised by chance encounters, inspired by the Conversations program and stimulated by the exhibitions, films and conferences presented by our partners. We want to enrich their experience by the possibility of following the paths suggested by the invited curators or participating in walk-throughs. We want them to feel enfranchised, to be able to contact galleries with ease and confidence, in a way they may not yet be used to in the real world.
We want those who miss travelling to meet up with our exhibitors and guests from the five continents, including the Museo Tamayo in Mexico and MWoods in Beijing, and those who miss Paris to be reconnected with the incredible energy of the cultural scene here, including its two newest protagonists, the Fondation Pernod Ricard and the Bourse du Commerce - Collection François Pinault.
Do you see digital playing a role in helping the art world become more inclusive and helping FIAC connect with more collectors and visitors who might not usually visit the fair?
The digital space opens up and levels out the playing field considerably; very literally to people of all horizons; those far away and those who believe that art or purchasing art is "not for them"; those who feel awkward or left out for reasons of background or education, or intimidated by the sometimes elitist and seemingly opaque codes, behaviours and workings of the art market. Equality of access and greater transparency in the digital space enable a far more democratic outreach. This will undoubtedly give rise to new vocations.
When it is again possible to hold FIAC in a physical location, what will you be most excited about?
We are excited about seeing each other again, our exhibitors and our public! Knowing that 'the show is back on the road', it will be great to feel that exhilarating thrill of sensing the shared energy, appetite and passion of thousands of people communing with art and with each other, and the incredible potential which it unleashes; this time multiplied exponentially in the digital space.

And to a celebratory toast with the Artlogic team and our in-house digital team at Reed Exhibitions, especially Christophe Meurisse, without whom none of this would have been possible.
---
Visit FIAC Online Viewing Rooms at www.ovr.fiac.com until 7th March.
The FIAC Online Viewing Rooms are powered by Artlogic. Learn more about how Artlogic websites and Online Viewing Rooms can help your gallery thrive online or explore our Art Fairs & Events solutions.
Join our newsletter
In order to respond to your enquiry, we will process the personal data you have supplied in accordance with our privacy policy. You can unsubscribe or change your preferences at any time by clicking the link in any emails.