Artlogic Sales Pipeline
Redefining fine art sales.
The sales CRM platform for the art world.
Artlogic Sales Pipeline redefines fine art sales management, helping you to sell more with powerful offer creation tools, unprecedented levels of organisation and in-depth analytics. Integrated directly with the Artlogic Database, it provides everything you need to grow your business.
Sell.
Create and manage sales opportunities in one central location. Build stunning offer emails and record sales on the go via our iOS sales app. With multi-source enquiry tracking, website enquiries are automatically added, and all offers made using other methods can also be recorded.
Organise.
Keep all of your sales leads in one place, with complete visibility over the status of each sale, your priorities, and what actions need to be taken. Built right into the Artlogic Database, all your related artwork, contact and accounting records are kept updated in real time as offers move through the funnel.
Analyse.
See the bigger picture and understand how to grow your business further. Find out how artists, sales associates or gallery locations are performing and whether you're on track to meet your targets. Discover trends, unlock hidden potential and accelerate your sales with greater accuracy.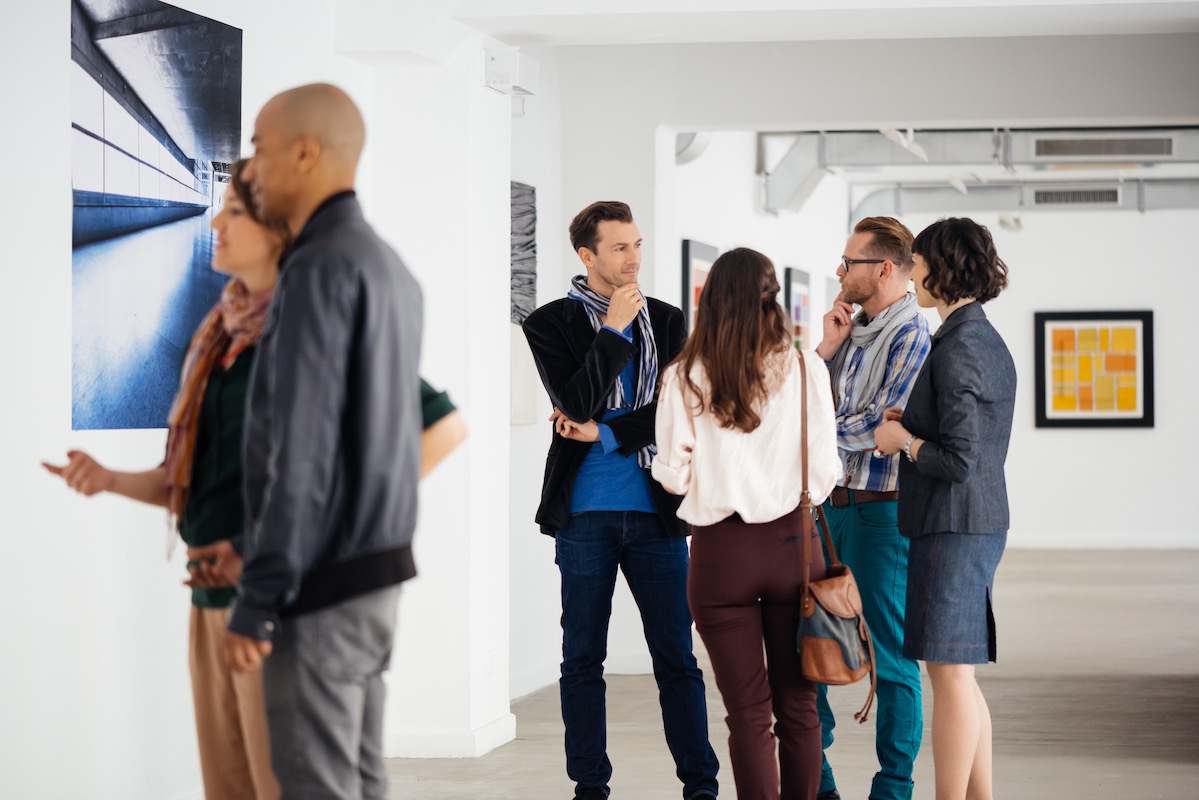 A revolutionary CRM.
To create, streamline and grow sales.
Sales Pipeline provides new ways for galleries, artists, dealers and art advisors to connect with collectors via our reimagined sales process. With the power of the Artlogic ecosystem, database, websites, Online Viewing Rooms and PrivateViews iOS app, it saves you time so you can focus on closing more deals.
Create stunning offers
Our industry-leading offer creation tools help you connect with collectors and showcase your artists and artworks in compelling ways.
Intelligent lead collection
Never miss an opportunity with offers from your website, Online Viewing Rooms, art fairs and all other sources in one central location.
Organise and Manage
Track and assign deals in a clear and organised workflow. Set follow-up dates, assign tags and collaborate with your colleagues.
Sales Funnel
Designed for the art world, our custom sales funnel provides clarity and oversight so you can close deals with efficiency and speed.
Data and Insights
Get detailed reports on your sales performance with sales by artist, consultant, and country, helping you to turn insights into actions.
Bring everything together
A fully integrated solution combining the database, websites, Online Viewing Rooms and the PrivateViews app.
Send powerful offer emails.
The ultimate conversation starter.
Creating stunning offer emails is now easier than ever. Using built-in tools, you can tailor emails to each of your client's needs. Selecting specific artwork details, editing prices, including high resolution links and attaching documents. Offer emails can be sent en masse or as highly personalised experiences. With 'Private View' links, you can engage clients with custom online presentations and, if you are away from your desk, you can create, record and present offers straight from your iPhone or iPad using the PrivateViews app.
Diverse lead collection
Never miss an opportunity.
Offer Emails

PrivateViews App

Websites

Online Viewing Rooms

Exhibitions

Art Fairs

Other sources
Spend more time building relationships.
Our ecosystem of interconnected products helps to create the ultimate end to end customer experience. With the help of an Artlogic website you can effortlessly create online exhibitions and Online Viewing Rooms to drive engagement and enquiries. The intelligent lead collection system will automatically log offers from your website flagging up those which need your attention, so you never miss an opportunity.




A clear, intuitive and powerful workflow.
Organise your sales.
Keep track of all your sales in one central place, in real-time. As deals are created or come in, they are automatically placed into your sales funnel. The sales funnel provides a clear and easy way to manage your sales using 'stages'. As you move each deal through the different stages of a sale, the artworks and contacts associated with that offer will be updated accordingly in your database. This carefully crafted process gives you company-wide visibility on an artwork's status and where each sale is in the process, saving you time and avoiding costly mistakes.
The Sales Funnel
Reinvented for the art world




Uniquely personal, highly collaborative.
No matter the size of your team, Sales Pipeline is designed to help everyone stay organised.
Individuals.
Users get a custom view of their sales so they can stay focused on their actions, priorities, and which sales need attention.
Small teams.
Managers can customise user privileges, assign sales leads and gain valuable insights with reports on sales performance.
Large teams.
Advanced team management enables sales associates to work collaboratively, sharing deals, artworks and hand off closed deals for invoicing to their accounts team.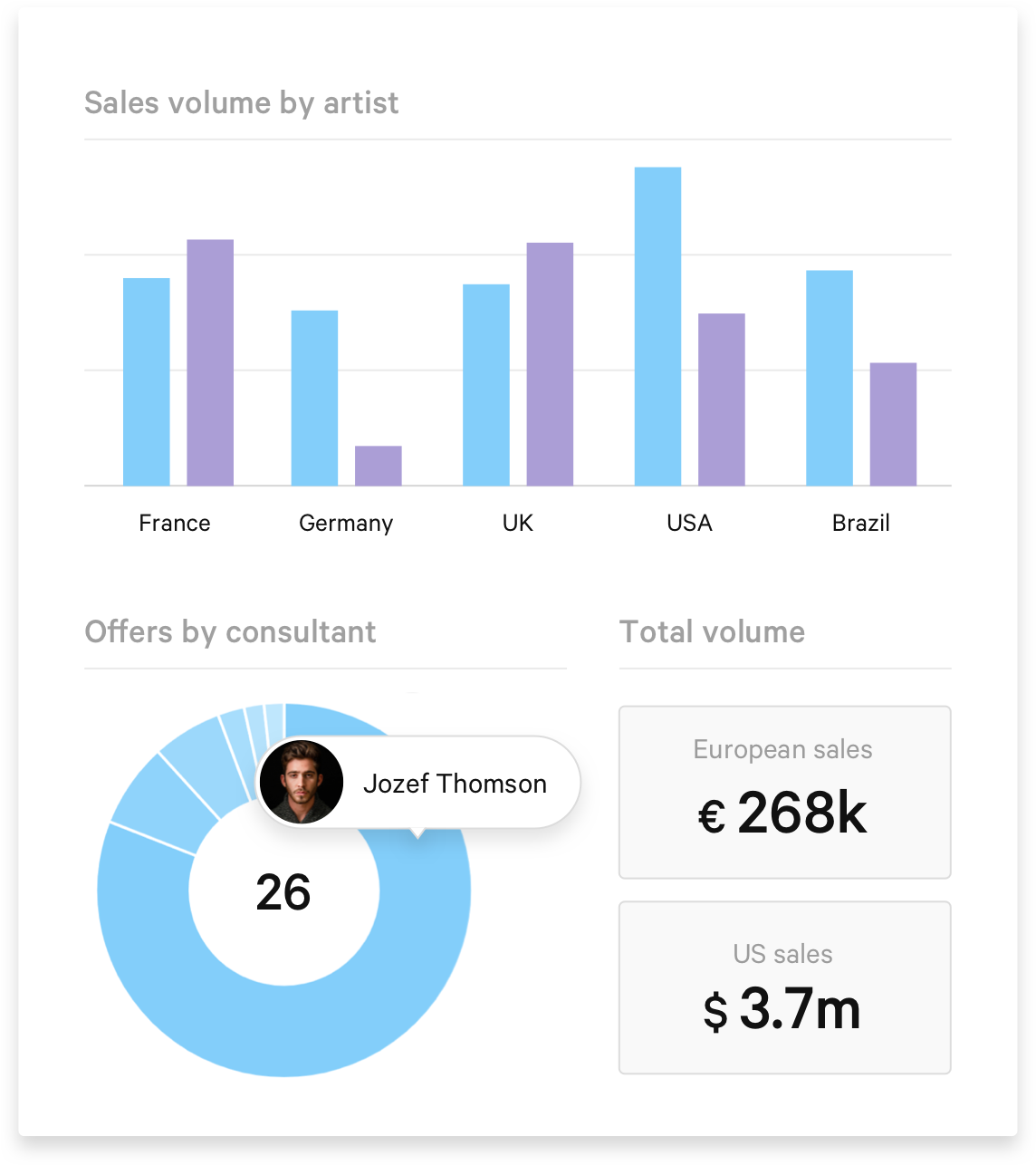 See the big picture.
And all the details.
Understanding your sales performance has never been easier. With Sales Pipeline Insights, you gain detailed reporting and statistics tailored for your gallery, studio or advisory. With your sales team managing their offers through the Sales Pipeline and your accounts team converting those offers into sales invoices, you'll gain powerful end-to-end sales and financial data.
Your sales performance.
Artists, artworks and team members.
Insights provide a breakdown of sales by artist, consultant, and country. You can also track conversion time and compare the numbers of artworks sold to the total revenue earned.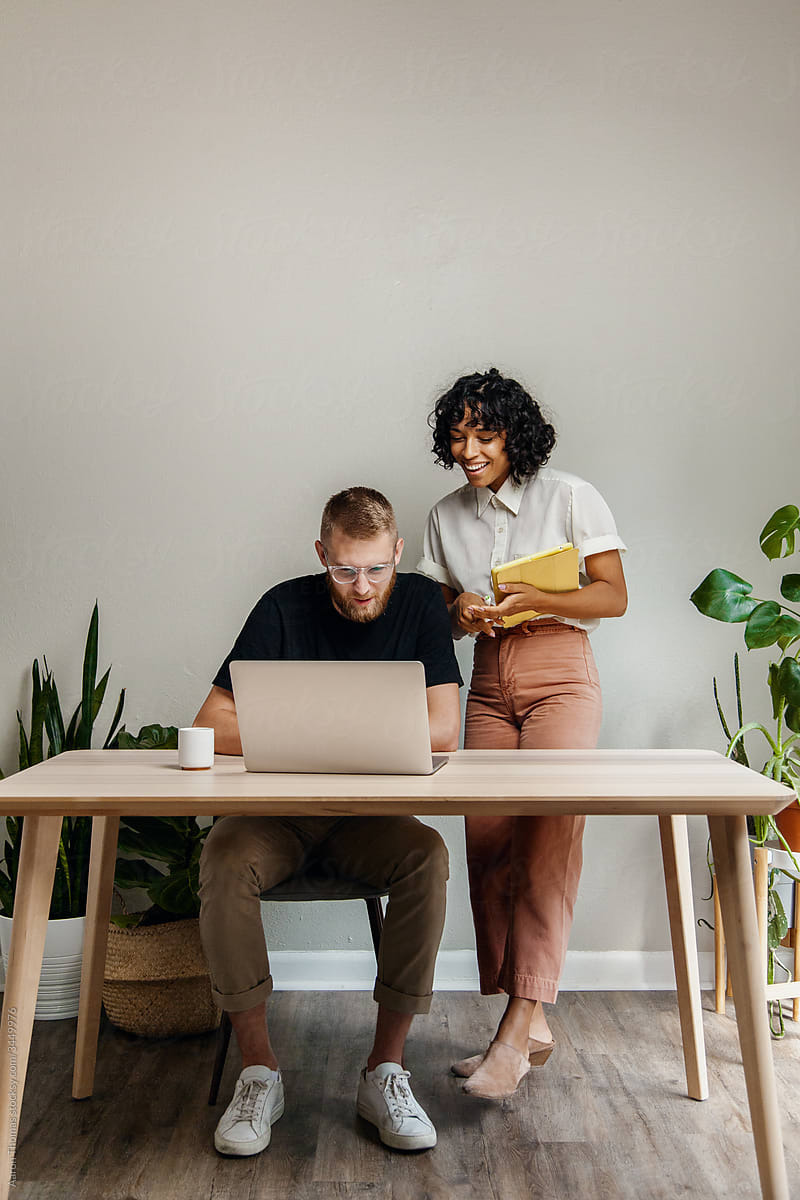 Turn insights into actions.
View your data monthly, quarterly and yearly for a greater understanding of how your sales are performing over time to spot trends and set goals. Easily download sales overview reports to PDF, Word and Excel.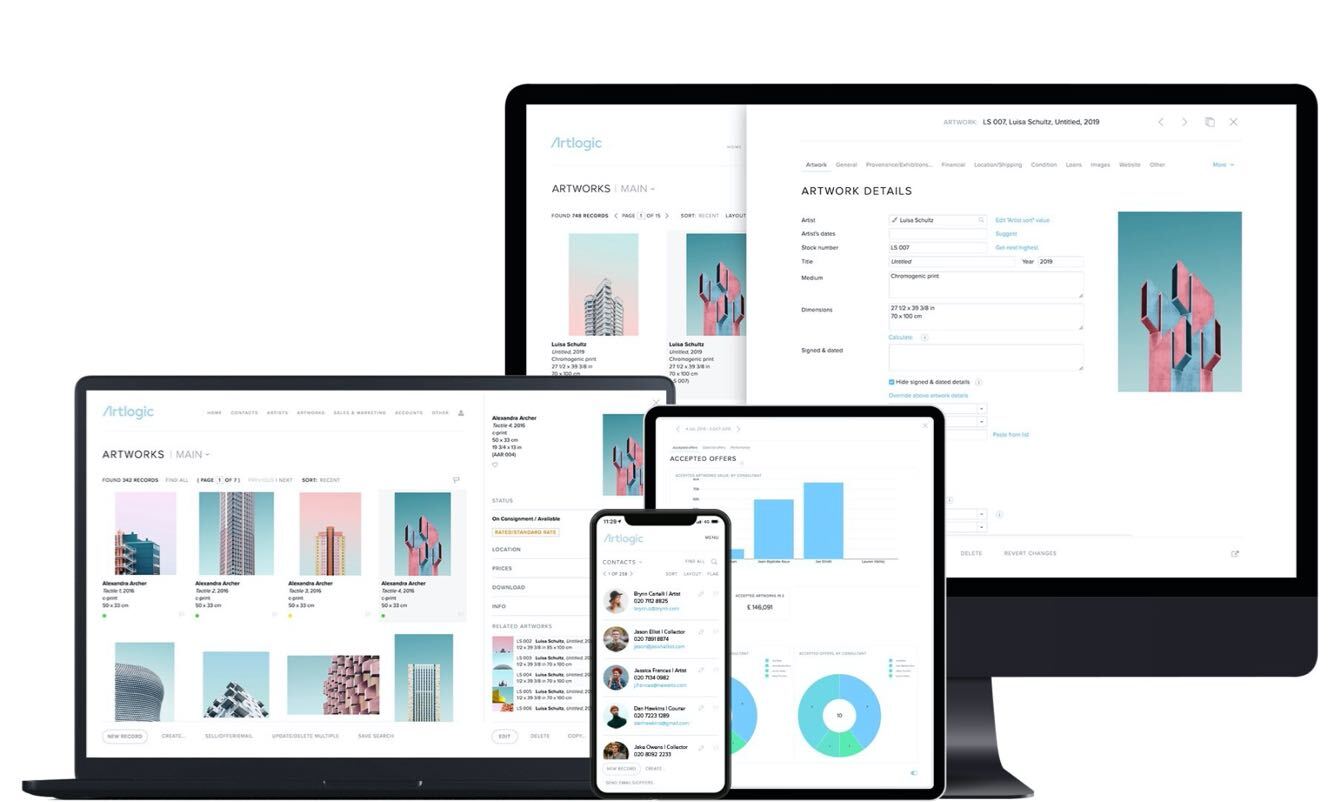 Database

/

Websites

/

Online Viewing Rooms

/

PrivateViews
+ Sales Pipeline.
Works like magic.
Integrated systems help to remove unnecessary double data entry, save you time and ultimately help to produce significantly more valuable and insightful data. Sales Pipeline is fully integrated with the Artlogic database, PrivateViews app, Artlogic websites and Online Viewing Rooms. This deep integration enables you to automatically record offers and enquiries generated by any Artlogic product in the Sales Pipeline, whilst simultaneously keeping contact, artwork and invoice records up to date at all times. This is the CRM platform designed for the art world.
£
45
per user
per month
+
Artlogic Database package price
Offer tags
Group offers by art fairs, exhibitions or sales campaigns.
Follow up dates
Never miss an opportunity to connect with your clients.
Make deals on the go
Use our dedicated PrivateViews iOS app to make deals on the go.
Invoice creation
Effortlessly create invoices in minutes.
Personalised mass emails
Send offer emails to multiple contacts at once.
Offer history logs
Keep track of all your offers.
Multi-source enquiry tracking
Track all your enquiries whether they are made in-person or online in one location.
Sales Funnel
Designed uniquely for the art world, it provides a clear workflow for accomplishing sales.
Website & Online Viewing Rooms Sync
Enquiries from Artlogic websites and OVRs automatically get logged.
Real-time updates
Integration with the database means team members can see artworks and contact information updates in real-time.
Invoice preparation
Add discounts, enter notes and information on shipping before your accounts team create the invoice.
User control
You have full control over what people can see and which team members can perform certain actions.
Automatic inventory & contact updates
Artwork and contact records get automatically updated with information from sales pipeline.
Insights and reports
Get detailed monthly, quarterly and yearly sales reports.
Business card scanner
Scan a business card on your phone and easily convert it into a contact in your database (Beta feature available).
Document creation
Effortlessly create invoices and sales reports.
Getting started.
Already have an Artlogic Database?
If you already have an Artlogic Database we will help get you set up. Speak to a member of our sales team today and we can run you through the process of setting up the Sales Pipeline on your account and the associated costs of Sales Pipeline users.
New to Artlogic?
Sales Pipeline requires an Artlogic Database to work. Speak to a member of our team about getting started and we'll be happy to run you through your database options with Sales Pipeline enabled.
Get in touch
Get in touch using the form below and we'll help get you setup.
Sales Pipeline