Such is the concentration of globally-renowned galleries in central London that, within just a few minutes walk, you can flit between an exhibition of emerging artists, to a collection of 20th Century Masters, and a groundbreaking VR show, all in an afternoon.

We've curated a selection of London's West End galleries which are all a hop, browse and a mosey away from each other, and display a diverse range of both emerging and established artists.

Whilst the following exhibitions are only showing for a limited period of time, don't worry if you miss them: we've included links to their online exhibitions so you can still enjoy the artworks, even after the shows are over.

So, put on a pair of comfortable shoes and let's get going.
---
1. Sabrina Shah, Talk to Me

17th March – 22nd April
Whitfield Street, Fitzrovia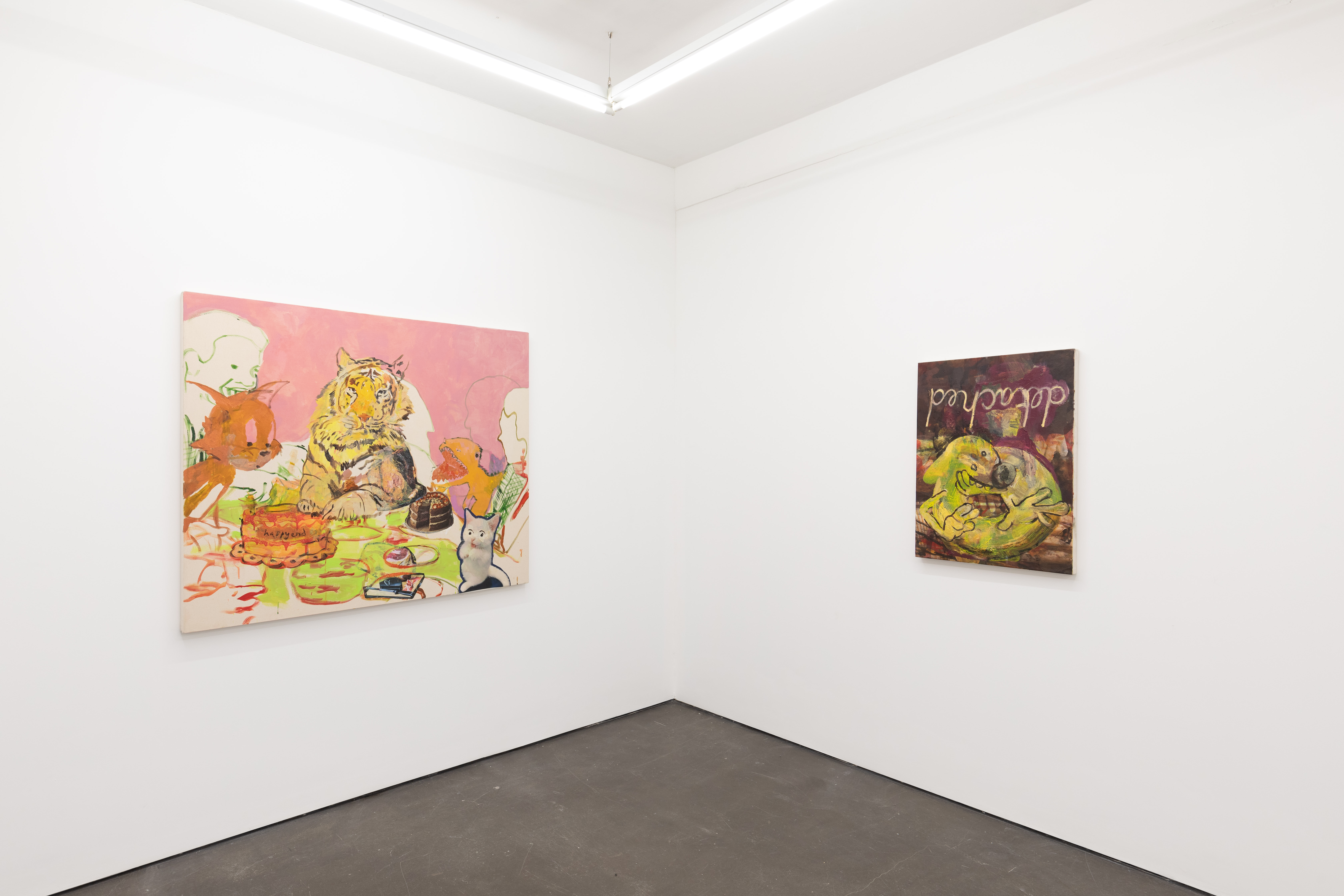 Sabrina Shah, Talk to Me


Our first stop is Fitzrovia's indigo+madder, which you'll find just a few minutes walk from Goodge Street Station on Whitfield Street, behind the unassuming facade of Kirkman House.


Opened just four years ago by Krittika Sharma, indigo+madder is a contemporary gallery founded on the principles of inclusivity and diversity. It embodies those ideals by championing the works of culturally marginalised groups, emerging talent, and artists of colour, both local and international, but with a special focus on the global South and its diasporas.


From 17th March – 22nd April, i+m is presenting Talk to Me: a solo exhibition by London-based artist Sabrina Shah. Shah's bold, multi-layered paintings use texture to explore the territory of invention, slipping between form and meaning. Incorporating elements of suspense and surprise, Shah uses food as a cultural reference point, portraying her British, Chinese and South Asian heritage.
Sharing the space with indigo+madder is Castor Gallery. Showing Andrea Medjesi: Look, I have brought them back.. from 17th March – 22nd April 2023 in an explosive, psychological collection with historic links to the Balkans; incorporating motives of fireflies, venomous toads and mind-altering fungi playing into deep woodland environments that hold secrets as well as evidence of recent war crimes and the ancient battles.


Our next gallery is a 15 minute walk away
through the bustling back streets of Soho.
For a quick pitstop along Mortimer Street,
we recommend Mortimer House Kitchen to
fuel up on ample tea, coffee, and cake.
(Image: mortimerhousekitchen.com)

---
2. Richard Prince, Everyday

29th March – 5th May
Kingly street, Soho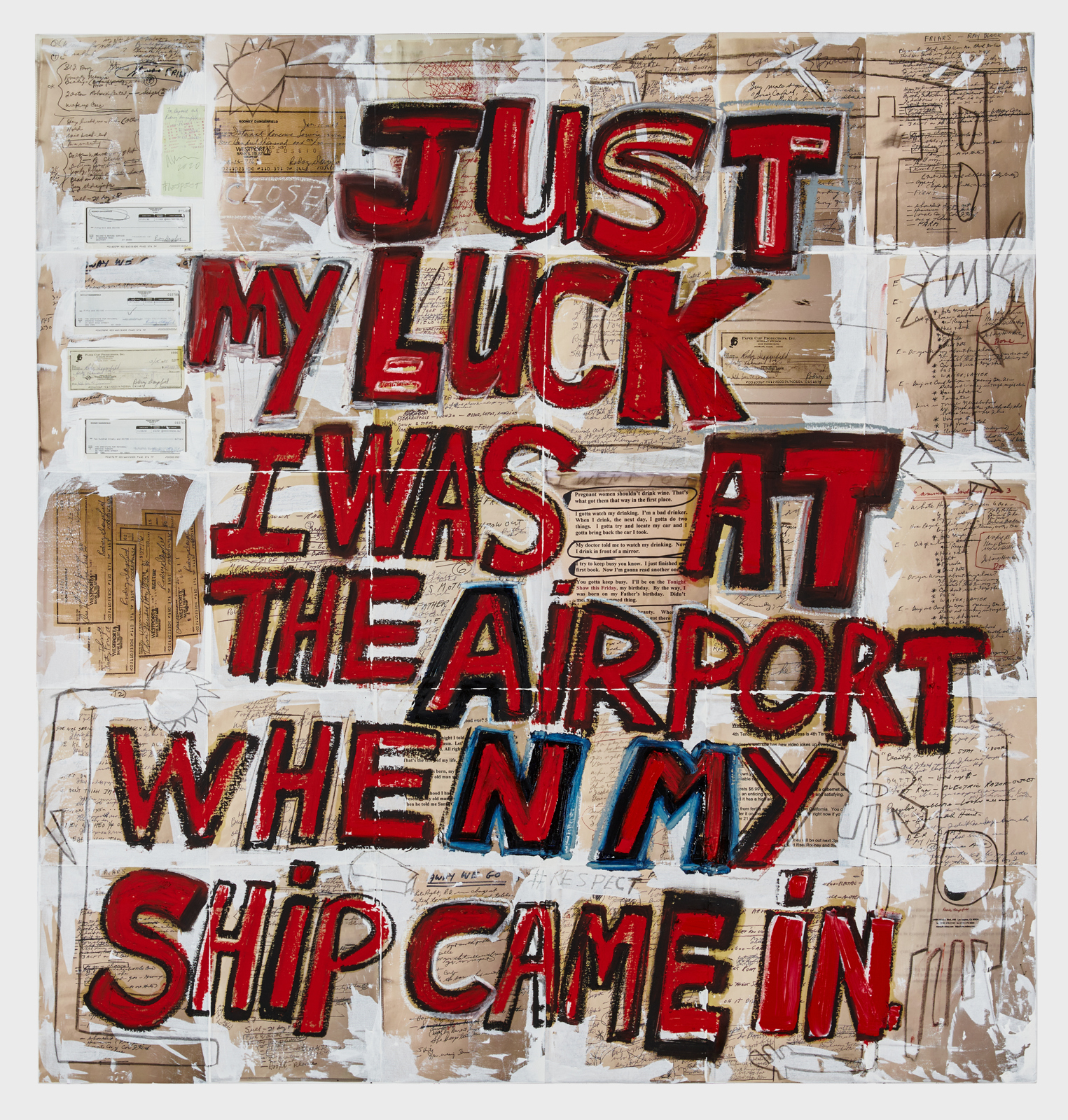 Richard Prince, Just My Luck, 2021, Credit: © Richard Prince, courtesy Sadie Coles HQ, London.
Photo: Jena Cumbo
As well as plenty of busy bars and restaurants, Kingly Street is home to one of the three London locations for Sadie Coles HQ. Founded by the eponymous art dealer, this contemporary gallery hosts works from established and emerging international artists.

From 29th March – 5th May, Sadie Coles HQ (Kingly Street) will play host to Richard Prince's seventh solo exhibition at the gallery: Everyday. A series of recent paintings, Everyday replicates the jokes of renowned American standup comedian Rodney Dangerfield, best known for his cutting one liners that captured the banality and self-deprecation of everyman humour.

An exhibition that recently drew to a close at Sadie Coles HQ was the first, UK solo exhibition of American multidisciplinary artist Jonathan Lyndon Chase. Now I'm home, lips that know my name presented a domestic installation exploring the Black Queer experience of love, sexuality, subjectivity and identity in a multidisciplinary display, constructing a sensual amalgamation of overlapping flesh, skin, limbs, and orifices. Thanks to Sadie Coles HQ's excellent online walkthrough, you can still view Chase's works as if you were right there in the gallery. Head to sadiecoles.com to experience the exhibition online.


---
3. Sebastião Salgado, Magnum Opus

16th March – 15th April
Cork Street, Mayfair
Sebastião Salgado, Valdes Penninsula from Magnum Opus


Our next gallery is just a short hop over Regent Street. Along Savile Row, you'll meet Burlington Gardens, and pass the statues of Leibnitz, Cuvier and Linnæus, staring down from the Royal Academy of Arts' facade.

On Cork Street, you'll discover Flowers Gallery. Angela Flowers Galleries have been representing international artists and their estates for over 50 years, with 900 exhibitions presented across its global locations.

From 16th March – 15th April, you'll be able to see Sebastião Salgado's Magnum Opus, a series of the photographer's platinum-palladium prints representing nearly five decades of global expeditions. From the great water-slicked tale of a whale in Argentina to the burning oil fields of Greater Burhan, Kuwait.
---
Emilio Vedova, Venezia Muore
Until 18th March
Dover Street, Mayfair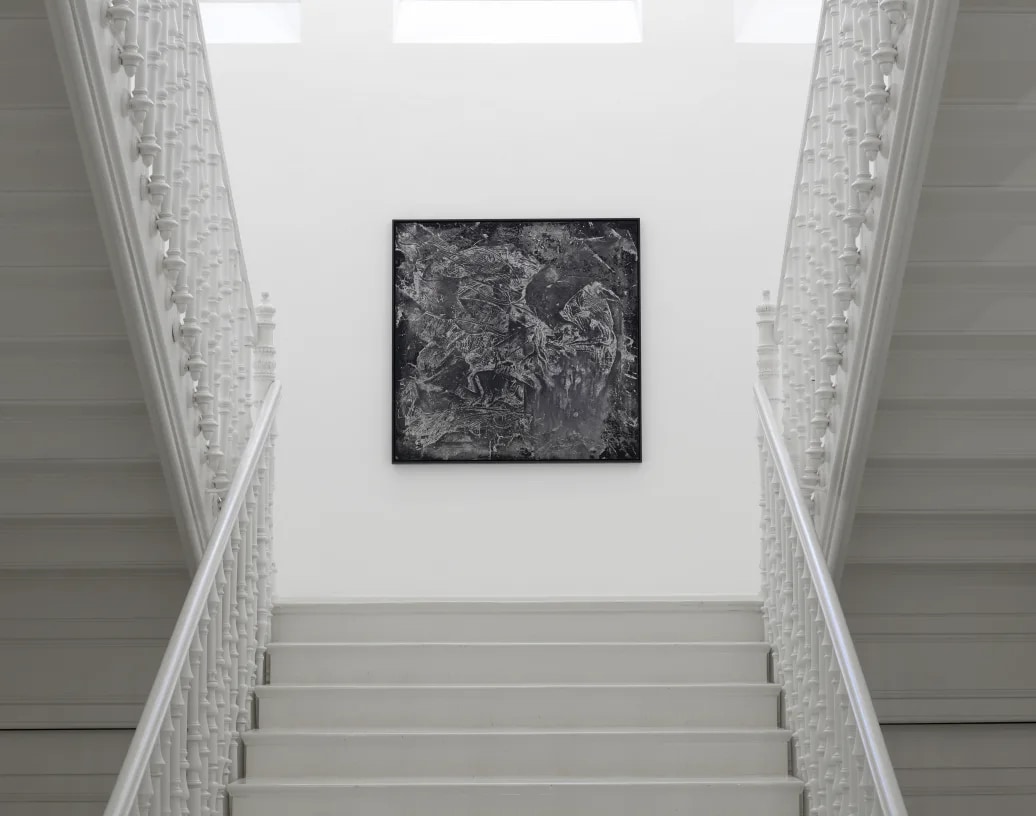 Emilio Vedova, Venezia Muore


Our fourth stop is on Dover Street, home to historic clubs, hotels, galleries and some of London's finest Georgian architecture. Not to mention Ely House, a five-storey listed mansion, wherein lies the next gallery on our tour: Thaddaeus Ropac.
Step inside and amble across the parquet floor to discover a presentation of the previously unexhibited paintings of Venetian artist Emilio Vedova until 18th March. Ranging from 1986 to 1992, these abstract works make excellent use of two repellent materials, acrylic and nitro paint, and are typical of Vedova's preoccupation with existentialism, the human experience, and post-war politics. The exhibition, Venezia Muore, is named after his monochrome five-part work that explores the decay, decadence and downfall of his home city. You can check out some of the paintings in situ on the website and view a video of the installation process.

Until 22nd March, you'll also be able to see a collection of the drawings of Joseph Beuys, as well as a presentation of the German artist's works in conversation with (and curated by) Anthony Gormley in SENSE: Beuys / Gormley A conversation through drawing. Head to the online exhibition for the full, digital experience, including video content of Antony Gormley talking through the works.
---
5. Matteo Zamagni, Refracted Bodies
Until 18th March
Dover Street, Mayfair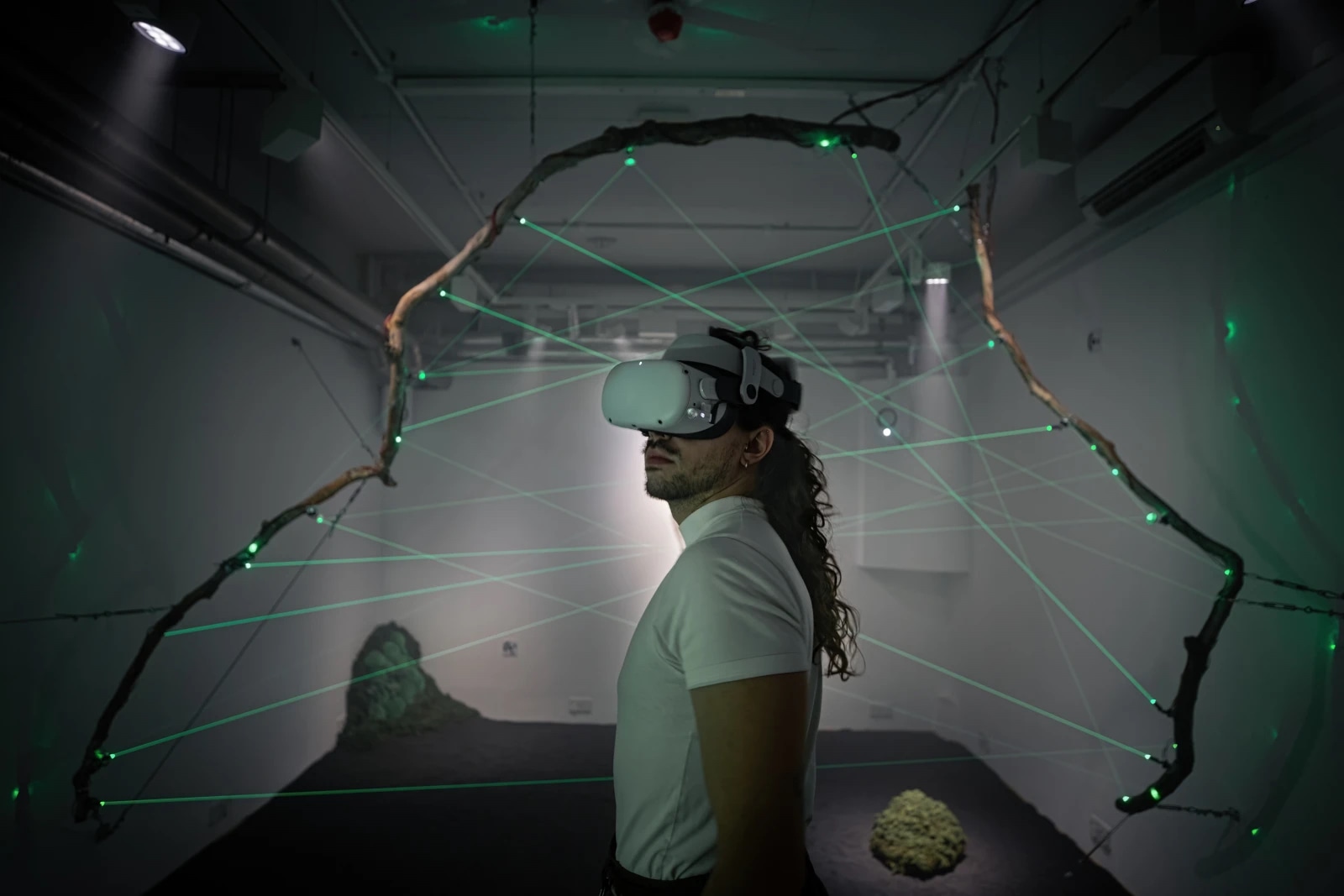 Matteo Zamagni, Refracted Bodies

Just a few doors down from Thaddaeus Ropac, and flanked by the Arts Club and gallery Robilant+Voena is Gazelli Art House. Founded in 2010 by Mila Askarova, Gazelli showcases artists from all over the world at the height of their practice, with a special focus on Azerbaijan and its neighbours.
In 2015, the gallery launched an online platform to support the works of digital artists, GAZELL.iO, and in 2020, opened the GAZELL.iO. Project Space and VR library, the first of its kind in Mayfair. Until 18th March, Project Space is showing Matteo Zamagni's Refracted Bodies, which combines physical and virtual elements to encourage us to examine our role within the "intricate technosphere of the contemporary age".

You have to book the (free) VR experience ahead of time, but if you can't make it, you can get as close to the real thing as possible in the excellent online, 3D virtual exhibition on gazelliarthouse.com.

Also on display until 18th March is Recycle Group's Sapient, "visions of utopia conjured by an eternal AI," which takes the form of an immersive installation that engages with themes of democracy, agency and hope. Again, if you can't make it, Sapient is also brought to life in a virtual exhibition on Gazelli's website.
---
6. Serge Attukwei Clottey, Crossroads
2nd March – 15th April
Berkeley Street, Mayfair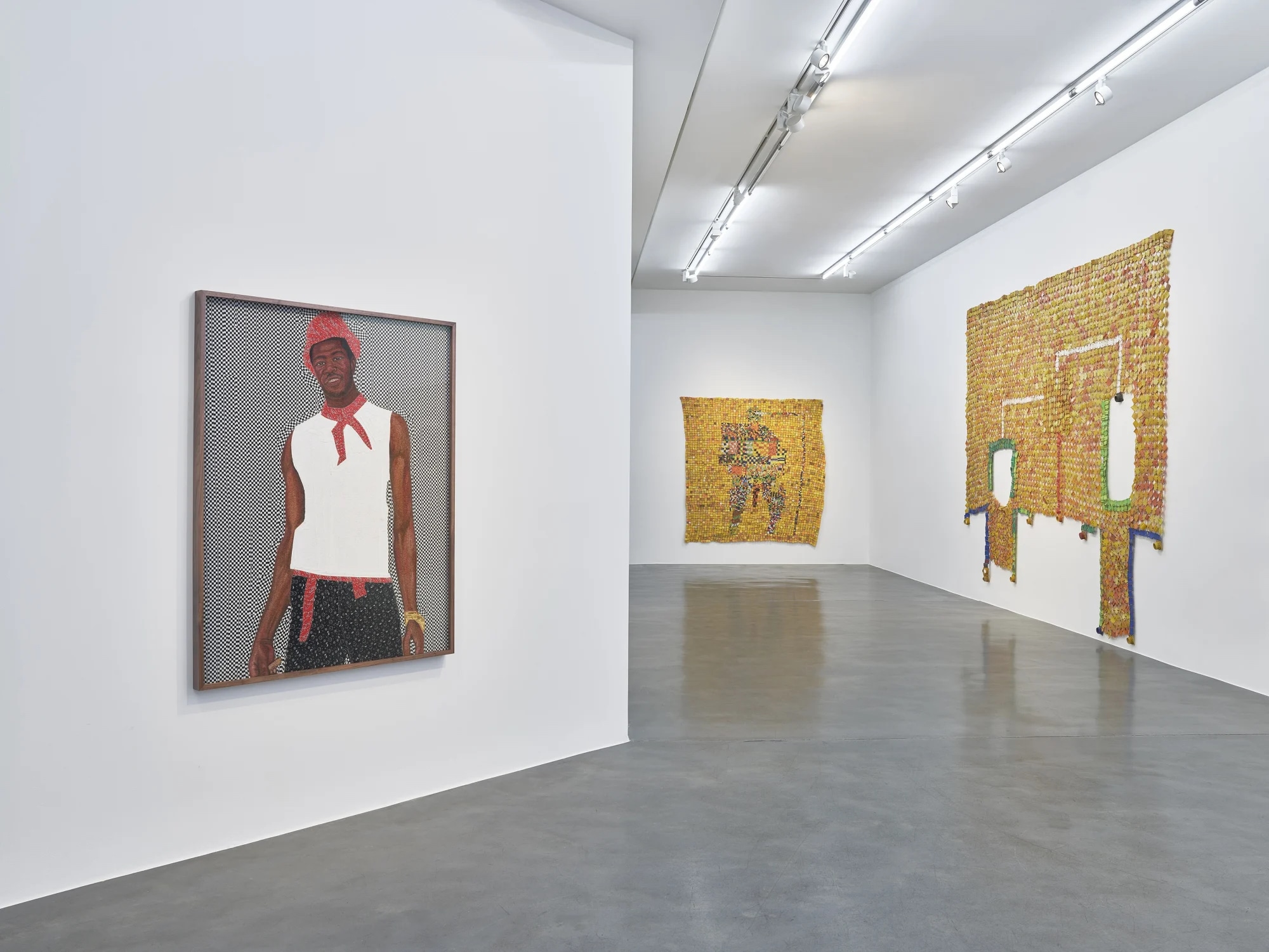 Serge Attukwei Clottey, Crossroads


Walk around the corner to Berkeley Street, and head up to Simon Lee gallery. Founded in 2002, this international art gallery represents over 35 established and emerging contemporary artists, and features painting, sculptures, video and photography.


From 2nd March to 15th April, Simon Lee will present a solo exhibition of the works of Ghanaian artist Serge Attukwei Clottey, Crossroads, which explores the relationship between his Ghanaian identity and Western culture. His works make primary use of materials discovered on the streets of Accra, such as Kufuor gallons (yellow plastic water containers), to contemplate his country's complex history with international exchange and migration, European settlers, the looting of artefacts and the transatlantic slave trade.

Running concurrently is To See Beyond Seeing, an exhibition of the works of Nigerian-born, London-based Helena Foster, featuring new paintings on canvas, paper and copper that explore unconscious fate in everyday reality.
---
7. Awol Erizku, Cosmic Drill

Until 6th April
Brook's Mews, Mayfair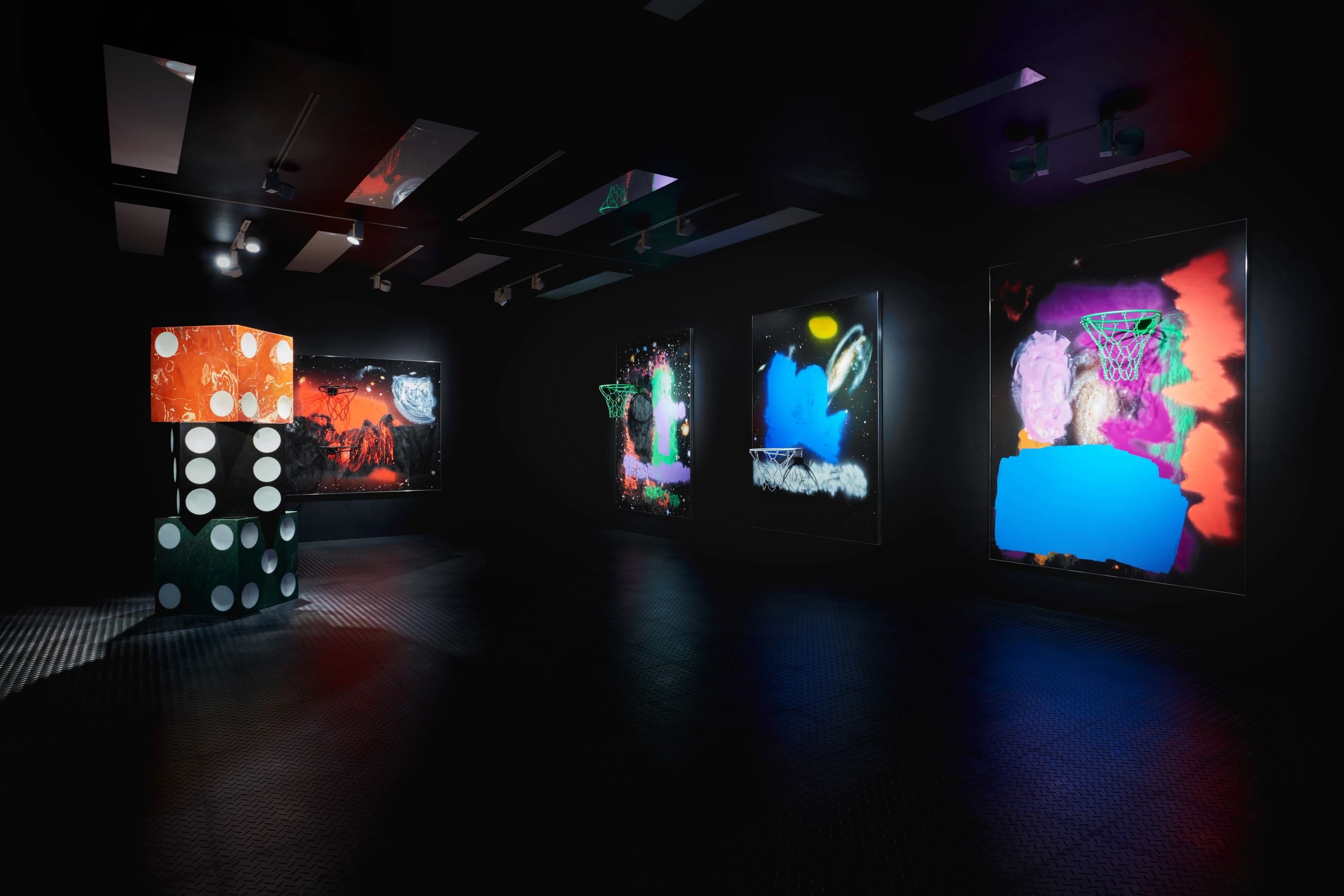 Awol Erizku, Cosmic Drill


Our final stop is Ben Brown Fine Arts, located on the corner of Brooks Mews and Avery Row, which specialises in long-term gallery artists, 20th Century masters, and multi-disciplinarians.
Until 6th April, you'll be able to see works by Los Angeles-based artist Awol Erizku in Cosmic Drill, an other-worldly exhibition that combines the mediums of paint, photography and sculpture and draws influences from street markings, hip-hop, basketball and even telescopic data from NASA.

Erizku's paintings are influenced by graffiti artists' territory-marking 'signatures' (tags) that pepper the public spaces of Los Angeles. Executed upon industrial aluminium surfaces, the paintings are emblazoned with photographic imagery (including pictures of the cosmos captured by NASA's Hubble Space Telescope), and exposed parts of photographic film taken from the 35mm camera Erizku's uses to document daily studio activities.

Also running until 17th April is New Frontiers: Movements in Contemporary Art, a celebration of great contemporary artists from Gavin Turk to Candida Höfer that Ben Brown Fine Arts is displaying a few doors down in Claridge's ArtSpace. The exhibition will be held concurrently with the launch of Claridge's ArtSpace Café – so be sure to catch this one too.
---
If getting to London isn't on your agenda any time soon, or you aren't able to visit exhibitions in person, many of our featured galleries offer excellent online exhibitions that allow you to browse works at your convenience.
The galleries' websites will help you navigate through a world of online exhibitions: sampling pieces via
Augmented Reality
(AR),
View on a Wall
, and
Online Viewing Rooms
(OVR) that accurately portray the dimensions and overall feel of an artwork, without you having to set foot over the gallery's threshold.
Feeling inspired you to curate your own online space? Try one of our template websites.
Get started now
Join our newsletter
In order to respond to your enquiry, we will process the personal data you have supplied in accordance with our privacy policy. You can unsubscribe or change your preferences at any time by clicking the link in any emails.