Oftentimes it appears that no sooner has one art fair concluded, another is just beginning – such is the way with the art world. For galleries, being ready for the excitement and opportunities the fairs afford is a year-round occupation.


But (contrary to popular belief) an art fair doesn't have to be chaotic or stressful. Not at all. With the right prep and the correct tech, you can be armed and ready to take on any art fair without so much as breaking a sweat. Follow this guide to set yourself well on the way to art fair success.
---
1. Organise your inventory
Organising your inventory is key to art fair success. Utilising lists and categories makes navigating your inventory quicker for your staff on the fair floor, facilitating a more efficient experience for your collectors, and increasing your chance of closing deals.
Artwork lists are a good place to start. Helping you to group artworks by events (such as an art fair) , artwork lists track which pieces will be featured at the fair and provide clear visibility to your team. You can even feature the lists on your inventory homepage for quick access to the relevant artworks and information when on the fair floor.
Lists make it easy to keep track of each artwork's status, availability, and location, ensuring that staff are equipped with the information they need to effectively manage the inventory during the fair.
Tips:
To create a list, navigate to artworks

>

artwork lists

>

new record. Then name your list "Art Fair 2023" and add "Art Fair" into the type field of the list. Tick the "show on home page" box to make sure this list appears as soon as other users log on.
You can then flag the records to add to the new Art Fair 2023 list. From this specific list, you can then create Private View Links, docs like "works available" and multipage factsheets for clients and prospects.
For more information on how savvy pre-fair inventory management will be your secret to success watch this helpful webinar.


---
2. Curate your digital strategy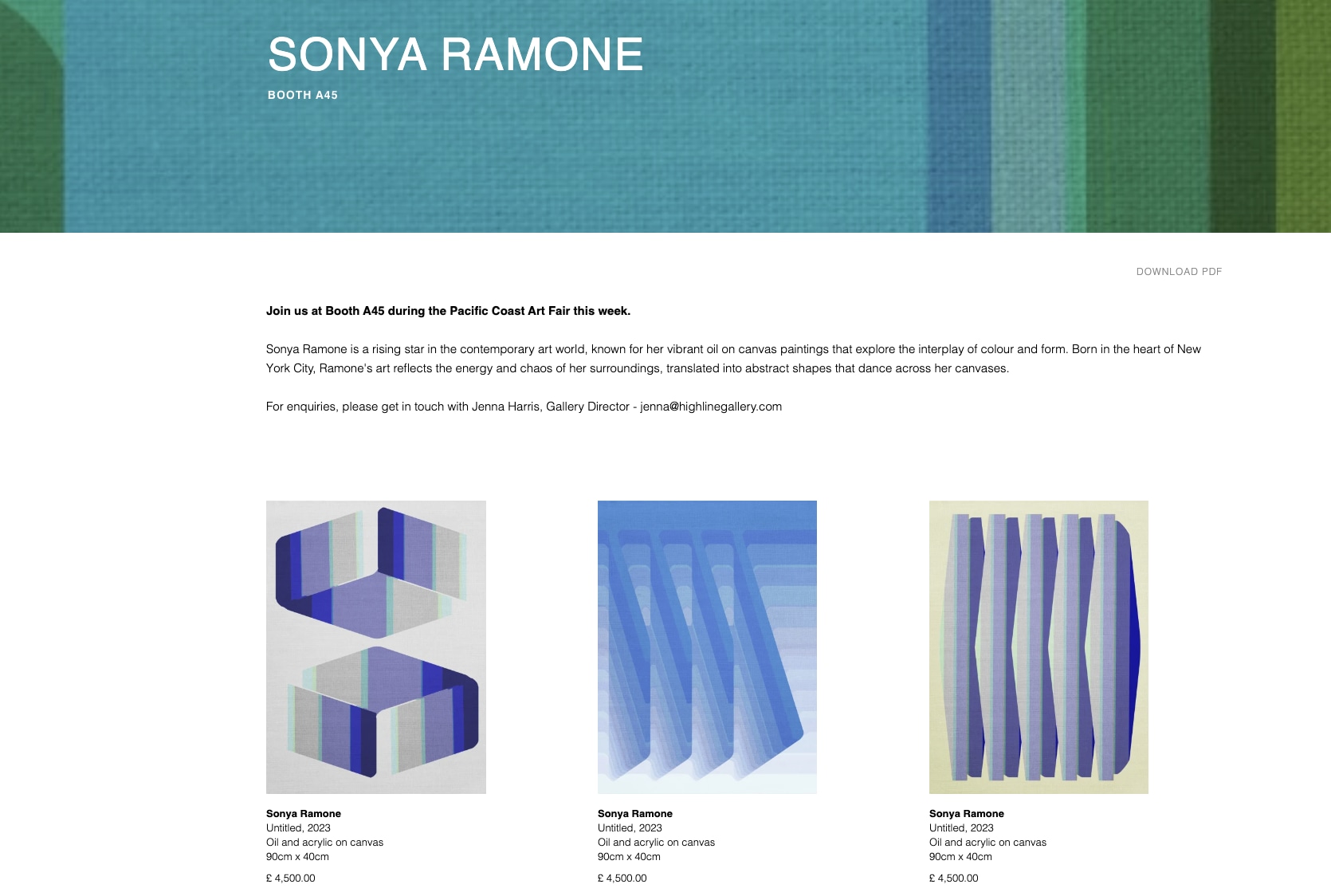 Private View presentation example


Create a standout experience for collectors with a well-executed digital strategy. Use Private View presentations (see here for an example) or Online Viewing Rooms to send previews of works. This approach is especially beneficial for collectors who cannot attend the fair as you can use the digital assets as an additional point of engagement to encourage sales.


Don't forget to use email marketing to promote your participation before and during the fair. Categorising your contacts and their interests makes it easier to identify collectors who are most likely to be interested in the specific artworks you're choosing to display. Simply create a list of contacts, send an email to just those contacts, and voila! You've got yourself a targeted marketing campaign. Read 5-quick-ways-to-improve-your-email-marketing for more ways to win when it comes to email marketing.
Tips:
When creating an Online Viewing Room, enable Augmented Reality (AR). AR allows a collector to visualise artworks in their own spaces before making a purchase. This deepens the digital storytelling experience, helping them to forge a personal connection with a work, boosting interest and, ultimately, enquiries.

Learn how to use AR.

Once you've curated your Private View presentation, you can share this with the Artlogic app and use this to show collectors at your booth – more on the Artlogic app further down.

At the fair, place QR codes next to artworks so visitors can scan-to-learn more about a particular piece, or collectors can save the webpage to remember the piece and enquire post-fair. This creates an interactive experience, giving collectors the chance to engage on their own terms.


---

3. Prepare your sales pipeline

Sales Pipeline example

Organising your sales pipeline prior to the art fair helps you prioritise and focus on the most promising collectors. By closing out old deals and updating availability and reserve labels, you can avoid misinforming collectors regarding the status of an artwork.

Armed with a clear pipeline post fair, you can focus on your new deals and prevent sales from slipping away in the days and weeks following the event. In short, a well-maintained sales pipeline is crucial to maximise opportunities and achieve your goals.
Tip:
Adding a tag to a contact or deal can help you group everything together for a particular art fair. You can then filter and organise your sales pipeline view based on tags.
Get strated with Sales Pipeline
---

4. Inventory at your fingertips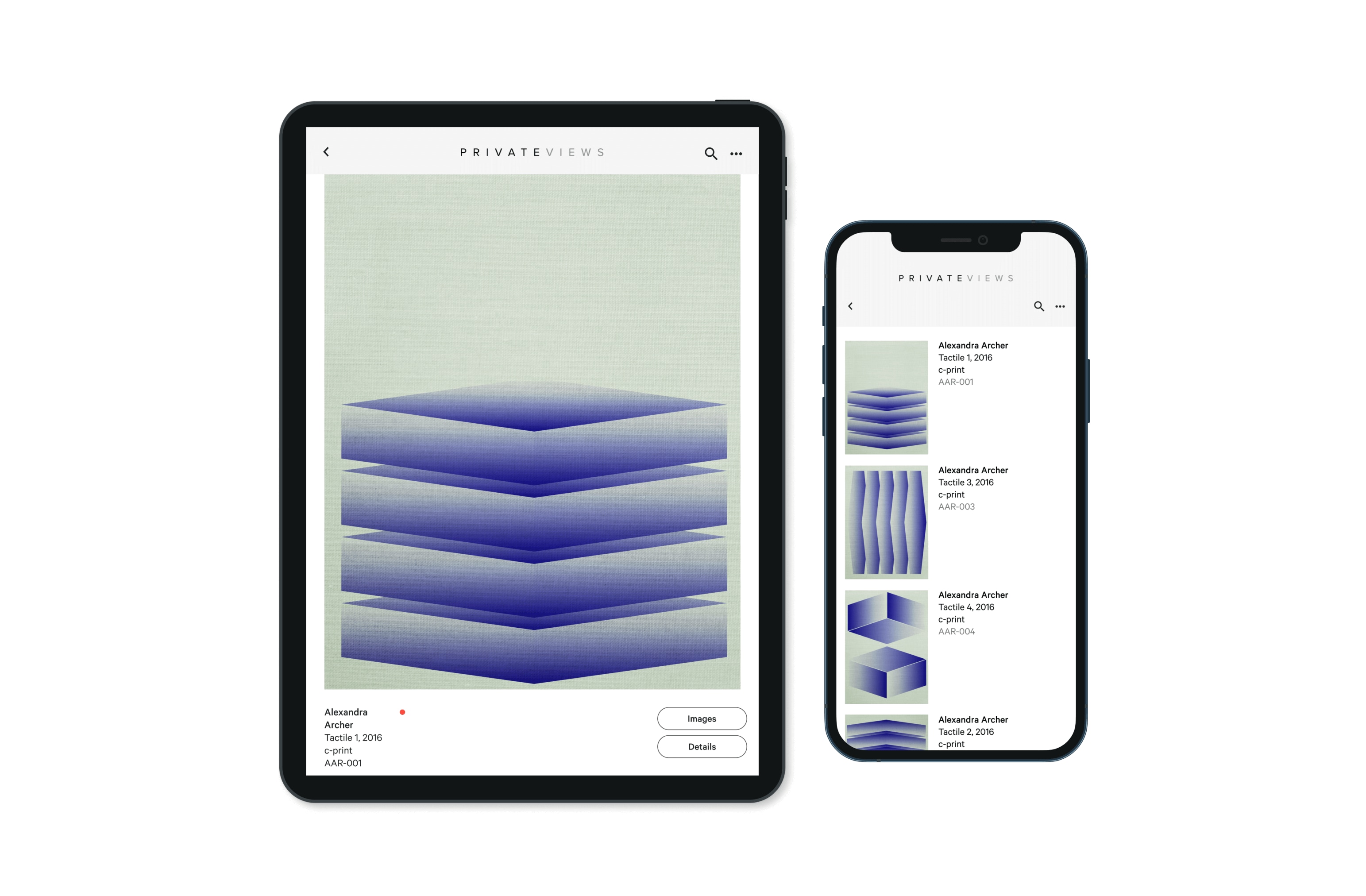 PrivateViews app

The PrivateViews app for iPhone or iPad gives you real-time access to your inventory, ready to impress collectors. You can curate specific selections of artworks, including additional information such as availability, provenance, images, and supporting documentation. Just remember to download the artworks to the app before the fair so that you're ready to hit the floor running.
Streamlined sales communication is key to closing deals at art fairs. The PrivateViews app allows you to create and send offer emails live from the booth. You can create an offer email and log the offer in your sales pipeline, ensuring that you can keep track of the deal even when you're away from the fair.


Tip:
The search mechanism allows you to quickly find artworks. Search is determined by the data that you have held within your system and is purely dependent on what you're sharing from your database – hence why it's so important to accurately organise and categorise your artworks within your database before the fair, so that your app is pulling through all of the correct details.


---

Prepare today, win tomorrow
Taking the time to plan using the right tools and technology will streamline your strategy and maximise your return on investment. Preparation before the fair will pay off in the long run. Don't let poor planning lead to missed opportunities and potential losses.
For more information on how you can prepare for, and succeed at, art fairs, take a look at our webinar dedicated to pre-fair prep and in-fair strategy:
How Artlogic Helps You Sell at Your Next Art Fair
.
Join our newsletter
In order to respond to your enquiry, we will process the personal data you have supplied in accordance with our privacy policy. You can unsubscribe or change your preferences at any time by clicking the link in any emails.